School Bus Tracking Can Bring Peace of Mind to Parents
published on February 27, 2018 by Sonia Mastros
student gps tracking, school bus gps tracking, student tracking technology, GPS Student Tracking, GPS Parent App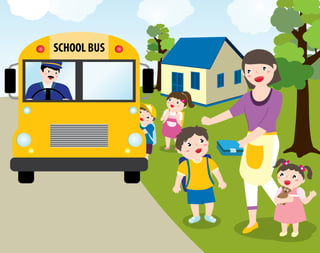 Everyone says, "Think of the children!" when it comes to school bus tracking, but perhaps we should be saying, "Think of the parents!" instead. Discussions about bus tracking tend to revolve around the many safety benefits that tracking brings to students, or the various ways tracking can improve and streamline district operations. However, one aspect is often overlooked: the benefits that bus tracking systems can bring to parents.

These can be particularly helpful to know, if you're in a position of arguing in favor of embracing tracking systems in your district. When you're standing in front of the school board or PTA, being able to talk about how tracking systems will benefit them directly is going to help your case!
4 Ways School Bus Tracking Improves Parent Relations
Web or mobile apps bring parents access - Bus tracking information can be made available to parents across a district, through a website or smartphone app, or both. This is technology everyone can use. Even better, security systems are easily implemented to ensure each parent only gets information that's relevant to them and their children. That protects everyone's privacy.
Parents always know where their children are - This might be the most obvious benefit, but it's hard to overstate its psychological importance for parents. At any time, they can log in and verify their child is in the proper place. And the tracking systems are generally accurate within a couple feet, so they will know exactly where their children are.
Easy status updates on delays - Plenty of things can happen on a bus route which are not dangerous, but will delay the bus, such as getting stuck in traffic behind an accident. Such situations can be made clear on the app, so if a parents are concerned when their children don't arrive home on time, they can check and see everything is still fine.
Better information on field trips - Field trips can be particularly stressful to some parents, since their children can sometimes be taken an hour's drive or more away from school. In the same ways the tracking app will help in day-to-day routes, it can also bring parents peace of mind when their children are going on field trips.
All this does add up to one major benefit to school districts as well: Fewer phone calls placed to the office. When information is available online, parents won't have to telephone.
School Bus Tracking Benefits Everyone
Tracking is good for districts, it's good for students, and it's good for parents. That makes it a real win-win investment for districts. What arguments do you find compelling, when talking about bus tracking?