4 Reasons Why GPS Vehicle Tracking Software Has Become Essential
published on November 24, 2015 by Sonia Mastros
vehicle routing software, vehicle monitoring, gps vehicle tracking, GPS Tracking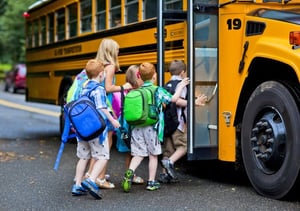 School districts throughout North America are being urged to up the level of safety they provide to their students, while at the same time cutting costs. While this is not an easy feat, it's also not impossible, due to ever advancing transportation industry technology.
One of the top advances to emerge in the industry is GPS vehicle tracking software. This technology allows districts to monitor buses in real-time as they travel their routes. For many districts, this type of tracking software has proved itself to be more than a luxury.
Here are 4 reasons vehicle tracking software has become so essential:
1. GPS Vehicle tracking software increases student safety.
For parents and administrators alike, knowing where students are, at all times, brings peace of mind. When integrated with school bus routing software, administrators can plan the safest routes, avoid delays, and ensure that students and drivers are monitored. In addition, in the event of an accident administration will know exactly where the vehicle is, what students should have already gotten off the bus and emergency contact information for all students that are still on. This drastically reduces the amount of time spent hunting for this information and administration is able to inform the parents and authorities right away.
2. Vehicle tracking software helps districts adhere to government policies.
Vehicle tracking software allows districts to comply with Department of Education and Medicaid requirements for ridership tracking. The technology also allows for reporting that is easier and more accurate than with manual management.
3. Vehicle tracking software makes staff management a breeze.
Monitoring driver times and routes help to eliminate extra work hours and to identify staffing problems. Alerts can also be set when a driver deviates from their normal route, alerting supervisors to suspicious circumstances or distracted driving.
4. Vehicle tracking software saves valuable resources.
For minimizing fuel costs, it's essential for school buses to be routed efficiently. GPS Vehicle tracking software does more than ensure that buses are running at their peak. Installing tracking software can also lead to decreased insurance premiums due to the lower liability risk. With an increased emphasis on environmental concerns, tracking software also helps districts plan wisely to keep diesel exhaust and emissions below the federal air quality standards.
Integrating state-of-the-art GPS vehicle tracking software, like TRIPpatrol from BusBoss, is a wise investment. Is your school district utilizing vehicle tracking software successfully? If so, we'd love to hear your success story.
If your school district is ready to learn more about how vehicle tracking software can promote safe practices and increase efficiency, call 866-740-8994 or click below to speak to an experienced industry expert.