Northeast Ohio Hosts Safety-in Service School Bus Program
published on February 24, 2017 by Sonia Mastros
student tracking, school bus safety, student ridership, driver training, Ohio school buses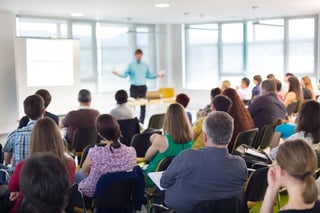 Every year, school buses across Ohio transport more than a million students to and from school. School bus safety is a top concern and a recent training hosted by Austintown schools focused on ways that drivers and administrators can keep students safe.
Northeast Ohio School Bus Safety Training
Over 460 drivers from almost three dozen districts throughout Northeast Ohio met for an annual safety in-service program at Austintown Fitch High School, which was hosted by the local school district. This was the 10th annual program of this type offered by the district. Speakers at this event included representatives from the Ohio Department of Education and the State Highway Patrol. They discussed safety best-practices both on and off the bus.
In-service programs like this promote safety and keep skills sharp. Knowing what to do during an emergency, managing student behavior, and understanding safety risks are just some of the topics discussed during programs like this. Depending on the size of the district, several such programs may be offered throughout the year.
Requirements for School Bus Drivers
In Ohio, school bus drivers are required to complete a four-hour training program annually. Drivers must also submit to a physical, along with drug and alcohol screenings. Background checks and minimum age requirements are also mandatory. These requirements are just some of the steps that the state of Ohio uses to ensure school bus safety.
School Bus Safety
Over 3,800 school bus-related crashes were reported in Ohio between the years 2013 and 2015. Along with training for drivers, school districts are focusing on public relations activities that inform motorists on the risks of illegal passing and other risky activities. School districts across the country are also utilizing student tracking technology to help keep students safe. School bus tracking software and other types of transportation-related technology is changing the landscape of the school transportation industry.
To learn more about technology that can help you to keep your students safe, contact the team of transportation specialists at BusBoss. We offer a wide array of solutions specifically designed to keep students safe.
What requirements does your state have for employment as a bus driver? What in-service programs are provided through local school districts in your area? What topics do you feel should be covered during in-service presentations? We appreciate your feedback.