New Federal Mandates for Entry-Level School Bus Driver Training
published on February 16, 2018 by Sonia Mastros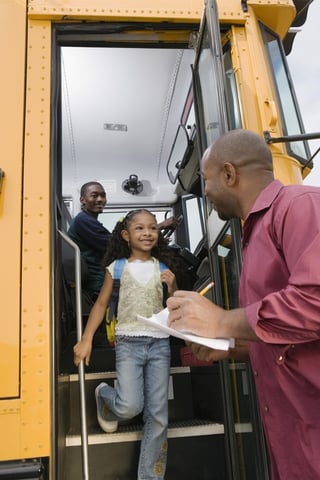 Big changes to how entry-level school bus driver training is handled are coming, with new hurdles that new drivers have to clear before getting their license. These changes are coming from the Federal Motor Carrier Safety Administration (FMCSA), a part of the Department of Transportation, and have been in the works for a number of years. Originally, these rule changes were to have gone into effect already, but several legal challenges to them delayed implementation. In November 2017, it finally became official: New bus drivers will have higher standards in 2020 and beyond.
Let's briefly run down these changes.
How Entry-Level School Bus Driver Training is Changing in 2020
The biggest single change is this: For the first time, there are minimum training requirements before an entry-level driver can get a Class B Commercial Driver's License with School Bus Endorsement.
Prospective drivers will now be prohibited from taking the CDL test until they have completed both a theoretical knowledge learning program, as well as behind-the-wheel training. This training must be provided by an organization registered with the new Training Provider Registry, which will be overseen by the FMCSA. The agency will begin taking applications shortly, so that there will be sufficient registered training providers by the time the Feb 7, 2020 start date.
Beginning in 2020, districts will have to sponsor new drivers through a training program to help them get their CDL. However, there are a few wrinkles which will make this less of a burden:
There is no mandatory curriculum. As things stand, curriculum will be left up to individual training providers.
There is no mandatory minimum hour requirement either, for either theoretical or behind-the-wheel training. However, training providers will be held responsible for those drivers they certify.
The theoretical portion of the training can be done online, which will undoubtedly lower costs.
In addition to the training requirements, there is one other change; an expansion to drug-testing policies. In addition to the drugs already screened for, four prescription synthetic opioids are being added to the list. Hydrocodone, hydromorphone, oxymorphone and\or oxycodone usage can now disqualify a driver from receiving her or his license.
At this time, it is difficult to know exactly how much impact these changes will have on school districts, particularly since individual states will have some leeway in their own implementation and regulation of the program, as it applies to their own drivers' licensing system. Meanwhile, schools should be looking ahead. Districts may even want to start getting in touch with their State Congress to join into the discussion about potential legislative changes.
What do You Think?
These are pretty big changes! Are they for the better? And how will your district adapt? Let's talk about it in the comments.