FMCSA Announces Proposed Rule on School Bus Driver Training
published on December 23, 2016 by Sonia Mastros
school bus safety, school bus tracking software, driver training requirements, transport management software, school bus driver training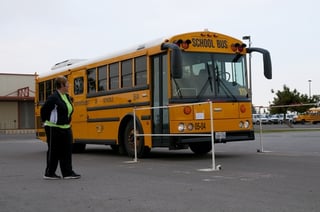 The Federal Motor Carrier Safety Administration (FMCSA) has proposed regulations for entry-level commercial truck and bus drivers to complete certain training prerequisites before obtaining their commercial driver's license (CDL).
Proposed Training Regulations
The proposed training regulations reflect the recommendations of the FMCSA's rulemaking committee, which is made up of representatives from the agency, along with 25 stakeholders from related industries. This group was developed to respond to a Congressional mandate set forth under the Moving Ahead for Progress in the 21st Century Act. The FMCSA will be seeking public comments before moving on to the next phase of rulemaking.
In order to operate a school bus, drivers must have a "Class B" CDL. The new rules would require applicants seeking this type of CDL to complete a minimum of 15 hours of training behind the wheel. This training would have to be conducted by a program that meets FMCSA standards. Seven hours of practice range training would also be required.
At this point in the rulemaking process, there is no proposed minimum number of classroom hours. Training would need to be completed by an entity that is listed on the FMCSA's proposed Training Provider Registry and a training certificate would be electronically submitted to the FMCSA upon completion of the program.
Keeping Students Safe
The level of school bus driver training required for employees, beyond a CDL, varies from state to state and district to district. Along with the ability to operate a large vehicle, a school bus driver must possess skills that will allow the individual to safely transport diverse student populations.
Fortunately, transportation software is now available that further enhances driver and student safety. From school bus tracking software to specialized transportation services, school districts can now combine training with a host of technological tools. A variety of training options for these transport management software are also available so that each user has the opportunity to learn at a pace that works for them.
To learn more about software programs that your school district transportation department can utilize for safe student transport, contact the team of transportation specialists at BusBoss.
What training requirements are in place for school bus drivers in your school district? What are your thoughts about the proposed bus driver training requirements? We'd love to hear your opinions.