Curbing Violence on School Buses
published on September 12, 2023 by Sonia Mastros
route optimization, school bus routing software, school bus safety, bus driver training, school bus violence, bus monitors, inefficient routes, outdated routes, inaccurate routes, route efficiency, state reporting, re-routing, bus shortages, driver shortages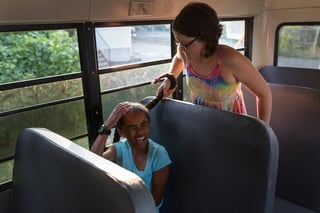 School-related violence is on the rise in the United States and this has parents and school district officials worried about the safety of students on buses. Bus drivers work in tight spaces and must constantly multitask. This stressful environment can be tricky to navigate, but specialized training for school bus drivers can help them to manage conflict and prevent violent, potentially tragic scenarios.
The Focus of School Bus Driver Training
While much of a school bus driver's training focuses on the functional aspects of driving to keep students safe, incorporating behavior management and crisis intervention techniques can help to prevent violent situations from arising. School bus drivers often get to know the students that they transport well and may spot red flags before teachers or even parents. Here are some tips for drivers:
Utilize bus monitors on routes where previous incidents have occurred. They can help to identify and address problem behaviors while the driver is occupied, preventing violence from happening in the first place.
Ensure that at least some bus drivers are part of your district's safety planning team. Drivers can provide valuable insight regarding the behavior and risks faced by riders.
Train drivers to assess students' body language and composure as they enter the bus. Clenched fists, for example, can signal that a student is angry and a crouched stance is often taken before running or lunging toward someone. If there is a concern, it should be reported to school administrators or transportation management before they take to the road.
With the assistance of the school and transportation department, assign seating for those who have displayed problem behavior separated and close to the front.
Beyond Driver Training
Driver training is vital to ensuring the safety and security of school bus riders, but there are also additional resources that can help prevent violence in the school transportation environment. School bus routing software allows transportation departments to plan routes that avoid the residences of registered sex offenders as well as known gang and drug hot spots. Today's technology allows users to integrate a threat zone database with bus routing software to stay up-to-date with any new risks.
Specialized transportation software can also track both students and buses, so that parents and administrators always know where they are. If a driver deviates from their assigned route, administrators are immediately notified, so that they can respond quickly. Parents and teachers can also receive ETAs and real-time student tracking information, alerting them to potential danger.
To discover some of the many ways that you can keep your students safe with specialized school transportation software, contact the transportation specialists at BusBoss.
What tools does your school district utilize to prevent violence on school buses? How important do you think bus driver training is to keeping violence from occurring on the way to and from school?
Please Let Us Know In The Comments Below!