Bus Driver Monitors on the Rise: Why They're Important
published on March 16, 2016 by Sonia Mastros
school bus driver, school bus safety, bus driver monitors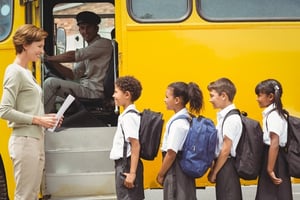 School buses are truly the country's largest public transportation systems. In recent years, incidents around the country have forced the important issue of student safety to the forefront. As parents, teachers and administrators advocate for increased security for school bus riders, equipping school buses with monitors is on the rise.
What does a Bus Monitor do?
Bus monitors have an incredible responsibility. Beyond keeping problem behaviors at bay so that drivers can focus on the road, they also play an important safety role. From making sure that aisles stay clear of books and backpacks to managing emergency bus evacuations, the role of a bus monitor is considered, by many districts, to be vital.
Parents, particularly those who have children with special needs, expect that their child will be able to get on and off the bus without incident. A bus monitor is specially trained to assist with entry and exit procedures and to ensure that student safety is maintained on the way to and from a drop off point.
When Hiring a Bus Monitor is not an Option
Though many districts are fighting to keep bus monitors on board, broad budget cuts around the country are preventing that goal from becoming a reality. This is forcing some transportation departments to think creatively and utilize transportation software that serves as an electronic bus driver monitor option.
Electronic bus driver monitor software has some notable benefits. By tracking buses via GPS in real-time, administrators can quickly identify abnormalities and route deviations, alerting them to potential dangers. Documenting route and stop times can also help transportation managers to make important decisions about where to place monitors, based on the data provided. Paired with student tracking systems, electronic bus monitoring helps parents and school district staff to keep a close eye on the safety of every child who rides a bus.
When you are ready to learn more about the transportation management software programs offered by BusBoss and how they are keeping students safe, contact our team. We would love the opportunity to discuss options with you that will help you meet your budgetary and safety goals.
Does your school district utilize bus monitors, a bus driver monitor or an electronic bus tracking system? What challenges or successes have you experienced? We want to hear from you.