What's Behind Fatalities at School Bus Stops?
published on June 11, 2019 by Sonia Mastros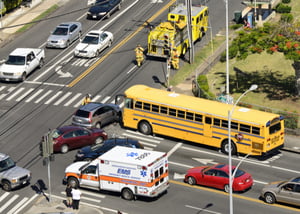 According to School Transportation News, there have been 14 accidents near school bus stops in 2018 - with five of the accidents occurring in November alone! Of those accidents, eight resulted in student fatalities - tying the number of deaths in 2017. In every case, the accident would have been preventable.
School bus safety training and procedures must focus on bus stop safety because they are the single most dangerous aspect of riding a school bus. Ideally, this training should extend to every corner of your district: drivers, students, and district residents should all be working to keep children safe at bus stops.
Four Tips for Improving School Bus Safety at Bus Stops
1. Encourage parents to always drop their children off early.
Several of the fatal incidents involved students rushing across the street, because they were running late for the bus, and being struck by other motorists. Districts can't assume young riders are going to remember to "look both ways" when they think they're going to miss their bus. It should be on the parents to ensure their children are always at the bus stop with plenty of time to spare.
That said...
2. Spend more time on student bus stop safety training.
You certainly shouldn't neglect training students on how to safely get on and off the school bus. We recommend taking at least one opportunity each semester for a refresher on proper behavior at bus stops, including:
Staying well back from the street until the bus has arrived

Never make a move towards the bus until it's come to a complete halt

Always staying within eyesight of the driver

Knowing where the "danger zone" is, and to stay out of it

And yes, looking both ways whenever crossing a street
3. Have community outreach regarding school bus safety.
Of course, most of those fatalities did involve other vehicles, and generally vehicles disregarding safety when driving around school buses. Try to partner with the local police, TV, or radio stations to increase public awareness of the issue. Motorists should treat flashing school bus lights - either yellow or red - like they would a bouncing ball crossing the street. That is, always assume a child might be in danger and maintain awareness.
4. Look for affordable upgrades.
Many districts have had success preventing bus stop incidents simply by adding more and brighter lights to their buses, helping guarantee that even distracted drivers see them. Others have added stop-arm cameras to help enforce driving laws. Either could be beneficial for your district.
How does your district keep people educated about school bus safety around bus stops? Let us know in the comments!
Photo editorial credit: cleanfotos / Shutterstock.com