Ways to Improve How You Track Student Ridership
published on March 03, 2023 by Sonia Mastros
Transportation Management Software, bus route optimization, school bus routing software, school bus transportation software, track attendance, student bus ridership, student ridership, school bus driver shortages, inefficient routes, outdated routes, inaccurate routes, route efficiency, state reporting, re-routing, bus shortages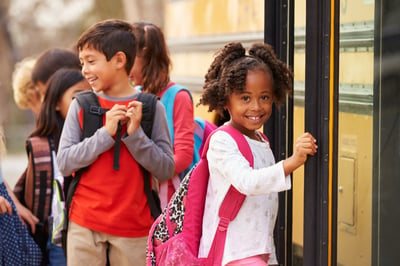 Today's technology allows parents and school district employees to determine if a student is on a bus, in real-time. The ever-increasing use of smart phones and tablets means that more and more people expect to have access to information about their children's whereabouts so that they can act quickly should an emergency arise.
Efforts to track attendance on bus routes are also beneficial to school districts. Transportation professionals use student location information to plan, optimize routes, and provide reporting. Tracking ridership of special-needs students is particularly important both for safety and reporting purposes. Tracking ridership, entry and exit locations and idle time electronically makes reporting for IEPs and reimbursement documentation quicker, easier and a lot more accurate.
As the need for consistent and accurate student rider tracking becomes a necessity for school districts, you might find yourself wondering how you can improve your data collection methods. Here are three easy ways:
1. Invest in a Student ID System
Issuing trackable student IDs is one way to track attendance that is being implemented by school districts across North America. Each unique ID is equipped with an RFID chip. Readers can be placed on buses, so that district employees and parents can quickly and easily determine the location of a student. While this might sound like an expensive proposition, both cards and readers are relatively low-priced, and the benefits of implementing such a system are enormous. Tablets are now also an option, that give you even more information about the student, special needs and ridership, aides, etc.
2. Implement Transportation Management Software
Along with knowing where your students are, it is also important to know where your buses are. Transportation management software allows transportation professionals to plan the bus routes then compare where buses, actually travel and can be combined with student tracking software for the collection of even more data. This information is useful for creating reports for budgeting purposes and for optimization of routes.
3. Focus on Integration
Before investing in school transportation software solutions, it is vital to ensure that each component can be utilized together. For the purposes of parent tracking and school district reporting, your information should be accessible and available through multiple systems.
To discuss your options for improving student ridership tracking, reach out to our team of transportation experts. We will share tips for managing your student tracking efforts and review your current transportation software capabilities.
How have you found success with tracking student ridership? Let us know in the comments below.