Virginia School District Adds Safety Tech to School Buses
published on November 12, 2020 by Sonia Mastros
school bus safety, school bus transportation, school bus safety plans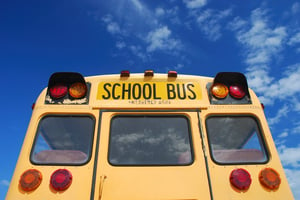 If you want a model for how technology can be used to improve school bus safety, you could easily look to Chesapeake Public School District in Chesapeake, VA. As highlighted in a recent School Bus Fleet article, the district has made a nearly unprecedented deal with BusPatrol, Inc, to implement top-to-bottom upgrades to their bus fleet.
Few districts will manage to arrange such an expansive upgrade deal all at once, but looking at the tech they will be implementing can point towards a strong long-term school bus safety upgrade path for districts on a budget.
Five New Technologies Now Being Put Onto Chesapeake, VA, Buses
1 - Stop arm cameras
Stop arm cameras are one of the most popular options for reducing the dangers from motorists ignoring the bus's stop arm. Functioning like traffic cameras, these photograph violating motorists and cause citations to be mailed to their home.
2 - Digital cameras
Every bus will soon be outfitted with sideload, interior, and rearview cameras. This is an excellent way of counteracting the large blind spots most buses typically have. In addition, if the video feeds are sent to the driver's dashboard, that makes it easier for the driver to maintain situational awareness without having to constantly look around.
3 - In-cab tablets
Chesapeake ISD is utilizing Galaxy Tab tablets, which are a nice size for dashboards - larger than a smartphone, but less bulky than a full-sized tablet. These tablets can be used as a head's up display for the driver, providing a range of information - or video feeds from the digital cameras - all right in front of them. This further increases their situational awareness, without distracting them.
4 - Electronic Verified Inspection Reporting (EVIR) systems
These inspection systems, from Zonar, work by placing RFID tags on the bus near critical zones which must be inspected daily. Inspectors use a handheld device that detects the RFID tags - verifying actual inspection - while allowing for highly accurate data entry and tracking. These sorts of systems are excellent for getting on top of maintenance issues.
5 - High-definition GPS fleet tracking
GPS fleet tracking is one of the best upgrades a district could implement, giving them instant overviews of every bus on its route at all times. With a lag of only a few seconds, at most, the district office can know if a bus has stopped unexpectedly, diverged from its expected route, or otherwise behaved in an unusual fashion. They also provide a huge range of diagnostic data as well!

It would be great if more districts could afford so many upgrades at once, but not everyone can. Which of these school bus safety upgrades would be at the top of your wish list? Let us know in the comments!