Trends in Transporting Special Needs Children
published on September 19, 2017 by Sonia Mastros
transport special needs students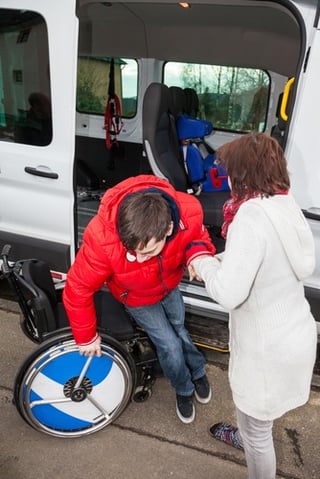 There are many challenges involved in running and managing a school transportation system, but the issue of transporting special needs children is its own special category. Because schools are generally obligated to provide services and work around the needs of the children, it can create extremely unique challenges for each district.
However, according to recent surveys by School Transportation News, there are still some clear trends in how schools are coping with their special needs demands. Let's briefly talk about some of the most common solutions.
How School Districts Are Transporting Special Needs Children Safely
1. Updating to Include WC19 Standardization
WC19 is the latest wheelchair standard from the American National Standards Institute/Rehabilitation Engineering and Assistive Technology Society of North America. WC19 wheelchairs are designed to be better-suited to be used as seats on moving vehicles. However, they require somewhat different strapping to be properly secured than older wheelchair designs.
As WC19-compliant chairs are becoming more common, schools are adapting their special needs buses to accommodate them. Despite the small cost, this should significantly increase safety for wheelchair-bound students, particularly in accidents.
2. More Autism Training
More and more students continue to be diagnosed with autism, which creates new challenges on buses regarding behavior. Students with autism may be disruptive or have difficulty maintaining safe seating throughout a ride.
To deal with this, many schools are beginning to add ongoing training aimed at helping their bus drivers understand and communicate with their autistic passengers. Drivers with a better knowledge of Autism Spectrum Disorder are going to generally have safer rides with fewer disruptions.
3. Fire Suppression Systems
Due largely to increased media interest in fires onboard school buses, some districts are considering installation of more fire suppression systems, particularly onboard their special needs buses. Industry sources claim thousands of school bus fires happen each year, but these claims are somewhat controversial. Many districts believe their money is better spent on accident avoidance, since most bus fires are the result of accidents.
Nevertheless, fire suppression systems are getting increased interest for special needs buses, since many riders may not be able to easily exit the vehicle. It seems a prudent safety measure in many cases.
BusBoss Can Help With Safely Transporting Special Needs Children
Another option for improving your school bus safety is utilizing advanced route planning software to create better, safer routes for your special needs students. With a highly optimized route map, a district can potentially reduce their day-to-day driving expenditures by a large amount - or even be able to downsize their fleet. It's even possible to prioritize special needs students, to see them transported first.
Contact us today with your questions on how to improve the safety of your special needs students! In the meantime, we'd love to hear about your own special needs situations. How are you adapting to the needs of these students?