Transparency In Transportation: Are Your District's Bus Routes Safe?
published on June 09, 2015 by Sonia Mastros
bus routing software, route optimization, Student Safety, Safety, school bus safety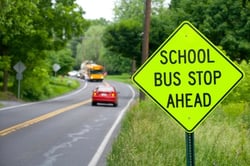 Many parents are shocked when they discover their school district does not use up-to-date fleet management techniques for creating school bus routes. Parents assume their children board the same bus every day, but this is sometimes not true when districts don't use route management systems. Districts with disorganized bus routing programs often send a bus out on the road and simply tell the bus driver to pick up children they see along the way. In some cases, districts that transport students to school this way may have school bus routing software, but they do not use it to its full potential.
Bus Routing Software Should Be Used For Planning Routes
Some districts purchase route optimization software, but only schedule the bus stops and times, not the students. This is a dangerous practice because the bus driver doesn't know who is getting on the bus, and parents don't know when and where their child is supposed to be picked up.
If a student misses the bus, or if a stranger boards the bus, it is difficult to identify the problem unless bus routes and stops are planned carefully according to the students that have to be transported.
Districts that have bus routing software but don't use it face financial and efficiency implications, as well. They have spent money on a tool that is supposed to save them on costs in the long run, but they neglect to take advantage of the software's benefits.
These inefficient bus routes also waste fuel and require more buses and drivers to make sure all students are picked up, and dropped off and not left behind.
Route Management Systems Create More Organized Routes
Some districts that do not have a route management system may be using a pin and string wall map, tracing the bus routes administrators have planned. Maps like these often lead to confusion, and while other districts use the same technique with Google Maps, the outcome in route efficiency and clarity is not much better.
Perhaps the most shocking bus routing inefficiency takes place at a district in California, where students randomly choose one of four after-school buses, and the buses run a route during which students are able to get off the bus wherever they choose.
School bus routing software would be beneficial in this instance because the software allows the school district to plan routes even for late buses. While these routes may deviate on occasion, scheduled routes are vastly safer and more efficient.
Route Optimization Software Is Safer For Students
Many districts that don't have or utilize route management systems allow high school students and elementary school students to ride the same bus. This situation is dangerous for younger children who are at risk of being bullied or exposed to conversations beyond their maturity level.
If your school district practices unsafe and inefficient bus routing techniques, take action now to address them before a more serious problem arises, such as a student going missing or being injured.
Bus routing software is a valuable tool for planning organized school bus routes that protect student safety and save on expenses such as fuel and bus maintenance. Speaking with an industry expert allows school districts to gain insight on how a route optimization program is right for them.
Ready to learn how route optimization software benefits your school district? Discover ways to use bus routing software to help you create safer, more efficient school bus routes.