More Stringent Requirements for TN School Bus Drivers
published on March 20, 2018 by Sonia Mastros
school bus drivers, School bus driver trainig, School bus driver safety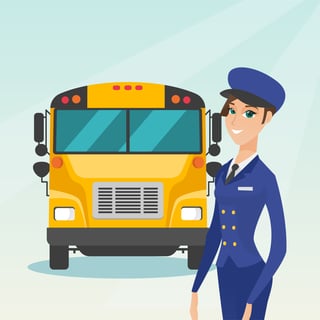 On November 21, 2016, a true tragedy occurred in Tennessee. A 24-year-old school bus driver with a history of speeding was involved in a school bus crash that killed six students and injured over a dozen more. In response, the state of Tennessee enacted House Bill 322 regulating school transportation systems and school bus drivers, which are now among the most strict in the nation.

Many applaud the new laws; others fear they go too far. Let's take a look.
What Tennessee House Bill 322 Means for School Bus Drivers
HB 322 has a lot in it. Here's a short summary of the major regulations:
School bus drivers must be at least 25 years old and have at least five "consecutive years of unrestricted driving experience."
Drivers must now complete a training course based on state criteria, ranging from basics of bus operation to dealing with unruly students.
All school districts must appoint a transportation supervisor who is directly responsible for all transportation issues. This supervisor must also complete a state training course as well as periodic refresher courses.
All school districts must have a written and approved transportation policy, including procedures for reporting violations.
Every bus back bumper must contain a phone number citizens can call to report driving issues. All reports must be investigated by the district within 48 hours.
Schools must collect and maintain a variety of records, including bus maintenance and a variety of paperwork on the credentials and performance of each driver.
That's a lot to absorb. Much of this seems entirely reasonable, or even common-sense, such as requiring bus drivers complete training courses. Other aspects seem a bit more questionable. Is it really necessary for the state to designate training policies for transportation admins?
It will also almost undoubtedly add considerably to the budget of Tennessee schools. The records collection/retention alone will be quite costly, considering the expenses associated with protecting private data. The 25-years-old age requirement may also make it more difficult to find drivers, while the bus driver shortage continues to be ongoing.
It's difficult to argue against stricter safety where school buses are concerned, but at the same time, few districts would want to see such sweeping regulation happen overnight.
Learning from the Tennessee Regulatory Situation
Schools in other states would be wise to take heed, and look to implement some of these ideas – although perhaps in diluted form – to avoid any similar tragedies. In particular, it is vital for the district to take reports of bad driving seriously. The driver in question had been reported numerous times, and no action was taken.
Voluntarily adopting similar policies might avoid the need for regulation in your state.
What do you think? Is Tennessee going too far? Would you welcome such regulation? Let's discuss the issue!