Transportation Management: Tips for Managing Your School Bus Fleet
published on July 06, 2018 by Sonia Mastros
Overcoming the Challenges of School Bus Fleet Management
Keeping a vehicle in tip-top shape and safe to drive takes an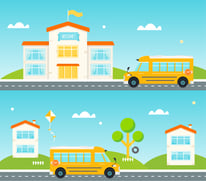 investment of time and resources. Doing the same for an entire fleet of buses can seem like a monumental task. Add scheduling, route management, tracking, and reporting to the mix and it's easy to see why transportation departments are turning to technology to help them manage their fleets.
Millions of students rely on school buses to transport them to class and on field trips every day. Late pick-ups or drop-offs, unauthorized route changes, and maintenance woes can wreak havoc and leave riders, parents, and school officials demanding change. Through the use of technology, school transportation providers are avoiding common problems and increasing their overall efficiency. Read on for some tips for utilizing technology that will make managing your school bus fleet easier.
Switch to a paperless filing system.
Reports, employee files, permission slips, and route maps were once a filing nightmare. Fortunately, each of these documents can now be stored in the cloud. Not only is this better for the environment, it also makes it easier to find paperwork when you need it.
Switching shop inventory management to a computerized system can also help you manage your fleet more effectively. Having quick and easy access to information from multiple locations saves time and can help your district stay on top of anything that may have otherwise fallen through the cracks.
Automate your maintenance process.
Technology now exists that helps transportation departments to keep up with fleet maintenance tasks easily. Automated fleet management software can now produce preventative maintenance schedules, send notifications of upcoming maintenance schedules, and produce work orders.
These systems are now so sophisticated that with a few keystrokes you can track inventory, view pricing information, and arrange for order. You can also easily determine which parts were installed on an individual vehicle. Specialized meters that are paired with the software send out alerts if any discrepancies in mileage are found, quickly alerting maintenance staff to potential concerns.
Make tracking easier with GPS systems.
Almost all drivers are familiar with the GPS systems that help them get where they'd like to go. GPS systems can also help transportation departments manage their school bus fleet in several ways. Real-time bus tracking allows supervisors to monitor the whereabouts of buses, keeping them up to date with unauthorized stops, route deviations, and other signs that there might be a problem. If a problem does arise, administrators can easily dispatch the closest bus, based on their tracking capabilities. This also prevents over-calculation of work hours by drivers by preventing time spent parked.
GPS systems also help to monitor student ridership. This is a big relief for parents, teachers, and administrators, but it also solves a major efficiency problem. Students can now be issued RFID cards that track when students enter and exit a bus. Not only does this keep students safe and ease parents minds, it also makes it easier to compile government ridership reports to ensure maximum reimbursements.
Technology is revolutionizing the way that school transportation departments do business. If you'd like to learn more about specialized transportation software that can help make managing your school bus fleet easier and more efficient, reach out to the team at BusBoss. We'd be glad to schedule a software demonstration and provide you with information about all of the valuable school transportation programs that we offer.
What are your go-to tools for managing your school bus fleet? How has technology changed the way that you operate your transportation department? We'd love to hear from you.