Tennessee School Districts Forbidden From Requiring School Bus Masking
published on October 08, 2021 by Sonia Mastros
school bus safety plans, school bus masking, student masking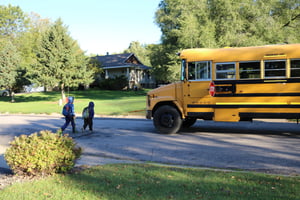 It's distressing how basic public health measures fighting COVID-19 have become heavily politicized, but the trend continues. Following in the footsteps of states like Texas and Florida, Tennessee's governor Bill Lee recently signed an executive order (PDF) forbidding school districts from requiring masks without allowing parental opt-out. This order covers all school-related activities, even school bus masking.
Unfortunately, it seems inevitable that this will lead to even higher COVID-19 rates in a state already suffering badly from the disease.
The Importance Of School Bus Masking
While it's initially understandable that some might view this in terms of parental choice, the issue is that it flies in the face of all reported data on COVID-19 transmission rates. Numerous studies have shown a direct correlation between mask requirements and lower disease rates. For example, this April 2021 study shows that 14 of the 15 states without strong mask-wearing policies have high rates of COVID-19 infection, whereas none of the states with 75%+ mask wearing compliance had similarly high rates.
Masks do prevent disease transmission. This is not seriously disputed by medical experts.
In the case of Tennessee, this is particularly troublesome because the state already has some of the highest COVID-19 infection rates in the country. Local hospitals are also reporting a lack of hospital beds due to spikes in COVID-19 infections, meaning that anyone in need of medical aid may be unable to receive it - not only COVID victims.
Disallowing school bus masking mandates will only lead to more cases. Students are packed closely together into school buses already, making it easy for any disease to transmit. While children are at relatively lower risk of developing serious cases, they can easily carry the coronavirus home to infect their parents, grandparents, or other family members.
Making the issue more complicated is that Bill Lee's executive order may be in violation of Federal law.
The CDC's Public Transit Mask-Wearing Mandate
Earlier this year, President Biden issued an executive order that Federal health agencies should use their legal powers to require mask-wearing on all forms of public transit. In turn, under the authority of the Public Health Service Act, the Center for Disease Control issued an order (PDF) making that executive order into enforceable law.
All public transportation, including public buses and school buses, must require masks among riders. There are only a handful of health-related exceptions.
The Tennessee mask-mandate ban would seem to be in violation of this order. Industry website School Transportation News even emailed Governor Lee's office asking for clarification or legal justification, but received no reply. Nor was there any public debate over the executive order.
All this leaves the question: if school bus masking mandates are forbidden, how can parents be talked into allowing their children to wear masks for the good of everyone?
Please leave your suggestions in the comments.