Study Released on New York School Bus Delays
published on March 06, 2019 by Sonia Mastros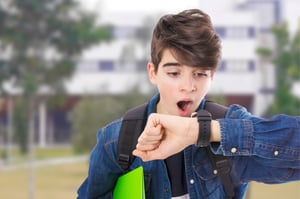 Managing buses and routes in any city can be a major challenge, but it's hard to even imagine the difficulties involved in planning school bus transportation in New York City. And there have been plenty of challenges! In the past year, parents across the five boroughs have been complaining about a high number of bus delays and other problems, to the point that the NY city council commissioned a study into the matter.
While interesting for those who follow transportation news, is there anything that other districts can learn from New York school bus delays and their causes? Let's take a look.
Key Takeaways From the Report on New York School Bus Delays
The report found that buses were delayed tens of thousands of times every month, with 27,082 delays in September 2018 alone, and each delay averaged nearly half an hour. Worse, the majority (~70%) of these delays happened in the morning, meaning that first-period classes were being consistently impacted by bus delays.
The primary cause is what you'd expect: traffic. Sixty percent of incidents were attributed to traffic-related delays. However, another 18% were caused by bus-related mechanical issues such as breakdowns and flat tires. The remaining 22% of reasons came from a smattering of various issues such as road accidents, inclement weather, or student delays unrelated to the buses themselves.
So what's actually causing the delays? That's trickier to pin down.
In a clip uploaded to YouTube, one NYC council member - Corey Johnson - blamed the state's Department of Education. He claims that bus drivers are not given enough warning regarding their routes, or opportunities to nail down the timing.
Poor subcontractors may also contribute. Another news report discussed how at least one contractor has had their contract revoked, due to continual lateness or even no-shows.
What We Can Learn From New York School Bus Delays
So is there anything here that other districts can take away? We can think of a few things.
1. Plan your routes early!
If Councilman Johnson's claims are accurate, NYC should be locking down their routes earlier. This is an issue many districts face, and often can be solved with improved mapping software.
2. Have contingency plans.
Drivers should have contingency plans in cases of high traffic. Do whatever it takes to avoid allowing a bus to get stuck in gridlock.
3. Keep close tabs on subcontractors.
If you contract your bus route, keep a very close watch on the contractors to ensure they're doing their jobs.
4. Make maintenance a top priority.
Nearly 20% of the New York school bus delays were maintenance-related. That's simply unacceptable. Proactive maintenance prevents such problems.
What do you think? How would you improve NYC's bus routing? Let's talk below!