Specialized Transportation Services: Putting Student Needs First
published on November 25, 2016 by Sonia Mastros
student tracking system, bus route planning, special needs student transportation, student bus transportation, specialized transportation services, bus route planning software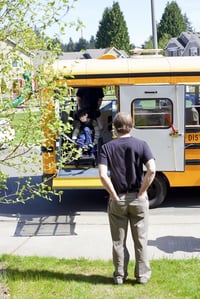 School bus transportation is one of the easiest and safest ways for students to get to and from school. Students with special needs, however, may need certain accommodations to ride the bus safely. School districts across the country are assessing the effectiveness of their specialized transportation services and determining how they can provide the safest and most efficient bus rides for every student.
The Need for Specialized Transportation Services
Individuals have the right to a free and appropriate education, and helping all students achieve their potential is part of the role of any school transportation department. Students with an IEP that mandates specialized transportation services for their ride to and from school must be accommodated. These accommodations may include assignment to specific routes or transportation by special vehicle types. In some cases, students may have a different pickup and drop off location. In others, attendants may be required to ride the bus. Accommodations may change throughout the year, based on the individual needs of a student.
Technology Helps School Bus Transportation Professionals to Accommodate Students
School bus transportation technology is advancing at a rapid pace and many tools are now available that are helping districts to accommodate every student. Route planning software is changing the way that transportation departments operate. Planning efficient routes helps drivers to minimize idle time and avoid any safety risks that could place students in harm's way.
GPS tracking technology allows administrators to track buses in real time. Any route deviations or unauthorized stops can be recorded, providing an alert to potential dangers. State-of-the-art student tracking systems are also playing a key role in keeping students safe.
To learn more about the technological tools that can help you accommodate your special needs student transportation and keep them safe on their school journey, contact the team of school bus transportation specialists at BusBoss. We have a wide range of transportation software tools available to meet the specific needs of your transportation department.
What specialized transportation services do you offer to your students? How do you manage the needs of each of the students who ride your buses? We'd love to hear more about the challenges and successes that have shaped your successful school transportation service.