South Carolina School Bus Driver Shortages Lead to Long Wait
published on December 10, 2021 by Sonia Mastros
school bus drivers, school bus driver retention, school bus driver shortages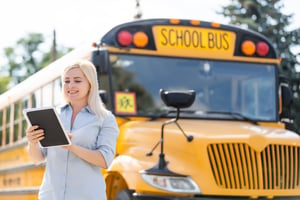 We all know that the school bus driver shortage is a problem and that it's not getting better. In some areas, it seems, things are getting much worse. Reports have come out about how driver shortages in South Carolina are causing excessive delays and a lot of stress among local residents.
According to these reports, bus pickup and drop-off times have become completely unpredictable. Students have apparently sometimes waited for more than an hour at bus stops, with no clear idea when the bus would arrive. Parents also say that the district has become uncommunicative, and often won't even answer the phone when they call to find out where their child is or when they'll be home.
This is apparently also causing students to frequently arrive late for their starting classes.
The district says that this is due to the need to 'double up' bus routes, having the drivers do one run, drop off students, then head back out for another run immediately.
Can anything be done here? We see a few ways a district could avoid letting things get this bad.
Mitigating the School Bus Driver Shortage
1. Formalize the Doubled-Up Routes
While not explicitly said, the stories out of South Carolina suggest that bus routes are being doubled-up on an ad hoc basis, when staffing is too low. If the district could formalize the practice, and build a stable set of routes around the idea, it would at least make the routes more predictable.
Some schools have even begun staggering their bell times, such as having High School begin at 8 a.m. but pushing Middle School back to 9 a.m., specifically to accommodate multiple bus runs.
2. Install Better Bus Tracking Systems
The combination of GPS tracking and remote communications makes it possible for school districts to create real-time maps of bus locations throughout their routes. These maps can, in turn, be put on the website or in a cellphone app so that registered parents can see this information.
While not a fix for the situation, this would at least cut down on calls to the office by giving parents a 'self serve' option for looking at the current bus ETA.
3. Keep Offering More Benefits to Drivers
Fundamentally, districts must compete to win drivers. This may be difficult due to budgetary concerns, but the reality is, districts aren't only competing with each other. They're also competing with trucking companies and any other operation that requires commercially licensed drivers.
South Carolina realizes this and has been increasing its starting wages, as well as offering free training and CDL classes. This is a good first step, and every district with driver staffing problems should be taking a similar approach.
How has your district been managing your bus staff? Any tips for avoiding similar problems? Let us know in the comments!