Six School Bus Winter Maintenance Tips
published on February 27, 2020 by Sonia Mastros
school bus maintenance, student bus transportation, maintaining school buses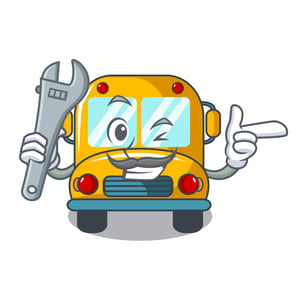 Is your district giving enough support to your school bus maintenance crews during the winter? Proper bus maintenance should always be a priority, but it's absolutely vital during the winter. Even minor breakdowns or on-road incidents become far more dangerous when the roads are icy and the temperatures are below freezing.
Be sure your maintenance crews are doing everything they can to ensure your buses are safe in the winter!
Six School Bus Maintenance Must-Dos During The Winter
1 - Do full maintenance inspections at least once a week
Your buses will be much more prone to maintenance issues in cold weather. Whatever your regular maintenance schedule is, the buses need more frequent inspections during the winter.
2 - Replace the tires (or install chains)
If your buses' tires are starting to go bald, get them replaced. Even new tires can have difficulty maintaining traction on ice; worn-out tires will be far more prone to skidding - which can create dangerous situations if the driver ever needs to brake quickly. Considering adding chains, if the area is particularly treacherous.
3 - Keep wiper blades and fluids in top condition
If freezing precipitation starts hitting the windshield, it can easily stick and start forming a layer of ice. The only defense against this is plenty of winter-ready wiper fluid, and good-quality wiper blades. If those aren't working, the driver may be forced to stop and manually clear their vision, wasting time and creating new dangers.
4 - Top off the gas tank after every run
If the bus is stored in freezing conditions with a nearly-empty tank, ice crystals may start to form on the gas tank walls. This can then interfere with proper combustion when the engine is restarted. Keeping the tank topped up prevents this.
(Or consider switching away from gas/diesel engines!)
5 - Watch carefully for fluid leaks
Pipes and hoses are much more likely to crack during the winter, by becoming brittle in cold weather. Minor cracks and leaks can very easily turn into major leaks, halting the bus in transit until repairs can be made. The slightest sign of leak should be taken seriously, tracked to its source, and repaired.
6 - Encourage drivers to self-inspect before runs (and provide alternatives!)
While it's always good for drivers to do an inspection of their bus before leaving the barn, this is particularly important during the winter. If they find any problems, make sure they have options to either have those problems repaired or else have a spare bus available for use.
Winter is a particularly dangerous time for school buses. What steps does your district take to maintain school bus maintenance over the winter? Let us know in the comments below!