Should Your District Buy Used School Buses?
published on May 31, 2019 by Sonia Mastros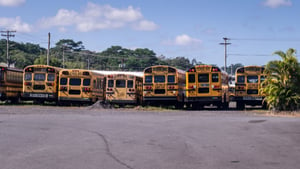 If a school district is looking to expand their bus fleet without breaking their transportation budget, buying used school buses would be an easy way to do it - at least in theory. School buses don't hold onto their value very well, so it's relatively easy to find used buses which cost a fraction of what a new bus would.Of course, the sticker price doesn't tell the whole story. Used buses frequently need repairs and upgrades to bring them into line with current regulations, plus they are likely to have shorter useful lifespans. Still, with smart shopping and negotiating, used buses can absolutely be a good investment.
Four Important Tips When Shopping for Used School Buses
1. Get as Much History and Paperwork as Possible
Even more so than when buying used cars or trucks, you need to know everything you can about the bus and its history. Has it been involved in any accidents? What maintenance has been done? Have there been any major upgrades or overhauls, such as dropping in a new engine? You should get all the info you can from the seller, and be wary if they don't want to talk about the bus's history.
On the other hand, sometimes you can get a great deal if the bus received a new engine or transmission midway through its life.
2. Always Take a Skilled Mechanic to Check the Bus in Detail
As large and complex as school buses are, a full check-up will take a while, but it needs to happen. You should have a mechanic go over every inch of the bus, looking for signs of neglect, and cataloging any potential problems that would need to be fixed before they can enter active service.
3. Do an Emissions Test
With standards on school bus emissions and pollution changing every few years, it's very easy to get a used bus which is no longer on the right side of the law - particularly if it runs on diesel. You'll want to do an emissions test to see whether it's within regulation.
Of course, with cheap enough used school buses, you could potentially buy a bus and give it an engine upgrade while still saving money overall.
4. Talk to Your Insurance Company
Your vehicle insurer likely has detailed information about the particular make and model of bus you're considering, information that may not be public. They should be happy to discuss potential problems with you and warn you of any hazards. At the least, they can tell you whether your rates will go up or down.
Has your district purchased used school buses? Tell us about your experiences!