Senator Schumer Seeks School Bus Stop Arm Camera Report
published on January 09, 2020 by Sonia Mastros
school bus safety, stop-arm camera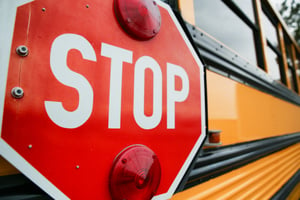 Right now, few issues are as contentious in the school bus industry than the topic of school bus stop-arm cameras. The issue of motorists illegally passing stopped buses is undoubtedly a major problem, with millions of violations across the country every school year. However, whether stop-arm cameras are the right solution to this problem is more contentious.
Senator Charles "Chuck" Schumer (D-NY) is concerned about the issue, and ultimately believes it should become a federal matter - that the federal government should pass blanket laws allowing school bus stop-arm cameras, rather than leaving it to the states. He made this clear in a recent press release, where he called upon the National Highway Traffic Safety Administration (NHTSA) to release more data on the topic.
Sen. Schumer Calls for More Data on School Bus Stop-Arm Cameras
As background, the NHTSA reportedly began studying the problem of stop-arm violations, along with potential solutions, back in 2015. Originally, the plan was for them to release their data in 2018. However, we now near the end of 2019, and there has still been no comprehensive release of data, or conclusions, from the NHTSA.
This prompted Sen. Schumer's call to action, saying, "The federal government has slow-walked the release of critical data and a report on the effectiveness of installing cameras on school bus stop signs as a measure of enforcing traffic laws and deterring perpetrators, essentially kneecapping safety improvement efforts." He went on to discuss how making this a federal issue would also allow federal grants to schools, aimed at reducing the cost of installing such cameras.
Of course, this is predicated on the idea that school bus stop-arm cameras are effective as deterrents - and that is not a certain thing. For example, a North Carolina study done after several years of stop-arm camera usage shows little to no significant reduction in violations. In a more general sense, the National Institute of Justice (the research division of the Department of Justice) says there is little correlation between increasing the severity of punishments and decreased incidents.
Plus, other potential solutions do exist. Some districts have seen significant success at reducing stop-arm violations simply by adding more lights to their buses!
So, while we do agree with Sen. Schumer that more data is needed in dealing with this issue, it is probably premature to assume that stop-arm cameras are the solution. But, what do you think? Are school bus stop-arm cameras the right solution to passing violations, or should we be looking at other solutions instead?
Let's discuss it in the comments!