School Districts Try out Lighted Signs on School Buses
published on January 05, 2021 by Sonia Mastros
school bus safety, School Buses,, Student Transportation, student bus transportation, school bus transportation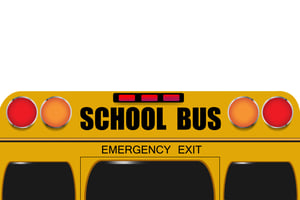 School bus safety is one of the foremost concerns for any school transportation program - and there is no shortage of companies trying to sell you upgrades in the name of safety. Sorting through them in terms of cost vs benefit can be difficult, particularly with so many high-tech solutions entering the market.
But, what if one of the best school bus safety measures is also among the cheapest and easiest to implement? Many districts are coming to believe that simply adding more lights to their buses can keep students safe - and there's plenty of reason to believe that's the case.
The Safety Benefits of Adding More Lights To Your School Buses
One of the most recent initiatives was reported by SchoolBusFleet, where a district in New York began adding illuminated "school bus" signs to the fronts and backs of their buses. It seems so simple as to be common sense, yet it appears that the illuminated signs - created by First Light Safety - are among the first of their kind.
According to First Light, the signs can be seen at distances of at least 1,000 feet. This is particularly important at night. From a long way away, it may be difficult for drivers to properly interpret the pattern of lights on the back of a school bus. Are they lights from a single vehicle, or a trick of perspective coming from multiple vehicles? Without more context, it's difficult to tell - but a big bright "school bus" sign eliminates any doubt.
We've also seen that extra lights can reduce illegal bus passing. Districts are always looking for ways to increase the effectiveness of their stop arms, and prevent other drivers from endangering children. The theory here is simply that many illegal passings don't happen because the driver is malicious, but that they fail to notice the bus stopping in time to safely stop. So they speed by.
Adding more lights to the back of the bus and the stop arm, especially flashing lights, will greatly reduce the chances of a driver failing to notice the stopping bus. Multiple districts have seen positive results this way!
Better yet, lights are cheap. In general, a bus can be retrofitted with extra lights for just a few hundred dollars, making them one of the most cost-effective school bus safety upgrades available. With districts always looking to stretch their budget and facing considerable challenges adapting to the COVID-19 coronavirus, this is exactly the sort of smart upgrade districts should embrace.
Has your district experimented with adding lights to your buses? If so, we'd love to hear about your results in the comments below!