School Buses Deliver Meals to Virtual Learners
published on January 21, 2021 by Sonia Mastros
School Buses,, school bus transportation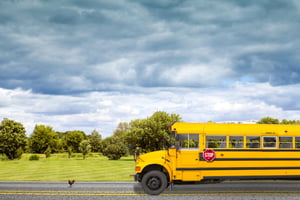 If your school is closed due to the ongoing COVID-19 coronavirus outbreak or only operating at a reduced capacity, it may feel like you're letting your community down. Parents rely on functioning schools for everything from childcare to meal preparation, and in these challenging times, it can be difficult to know how to best help out.
While there are no easy answers here, many schools have found a way to reduce the burden on parents who can't send their kids to school - using school buses to deliver lunches to low-income families.
School Buses Can Provide Food To Those in Need During the Coronavirus Outbreak
According to the School Nutrition Association, schools nationwide serve up over 20 million free lunches to students every day - making up over 2/3 of the total school lunches prepared. For low-income families, these prepared meals could be a lifesaver, allowing them to reduce their food budgets while knowing their children would get a nutritionally balanced lunch every school day.
So, losing those lunches due to quarantine can be a major blow to those families. Fortunately, there's an alternative.
The USDA Food and Nutrition Service - responsible for overseeing low-cost school lunches - has two programs aimed at providing meals when school is out: the Summer Food Service Program (SFSP) and the Seamless Summer Option (SSO). Combined, these allow schools to provide up to two fully prepared meals every day to low-income families who qualify for meal assistance. In response to the coronavirus, they've expanded the scope of these programs, allowing schools to continue providing meals to students staying home due to the coronavirus.
Currently, schools are authorized to provide these meals through the end of 2020. This may be extended further, depending on the ongoing outbreak situation, as well as budgetary matters.
Delivering the meals is simple: districts are using their school buses. In many cases, buses aren't being used for much else, so this keeps the fleet from being stuck in the bus barn for too long. It's also a good way to help keep bus drivers on the payroll, even if they aren't driving as much as they did previously.
Also, under the program expansions, family members can potentially pick up the meals directly from the school. Although fewer schools are likely choosing this option due to the increased chance of virus spread.
It's hard to find positives while so many elements of our schooling are in flux, but this represents an excellent way for schools to continue providing vital services to their community. How has your school been helping out? Share your tips in the comments below!