School Bus Wi-Fi: Round 2 of FCC Funding
published on September 21, 2021 by Sonia Mastros
School Bus Technology, School Bus WiFI, school bus funding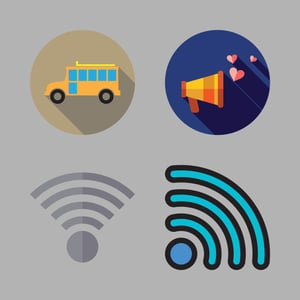 There's good news for districts that are looking for ways to fund a school bus Wi-Fi upgrade program. Due to overwhelming popularity, the FCC has announced a second round of funding grants to help pay for onboard Internet services!
Earlier this year, the FCC made several billion available in grants for Wi-Fi upgrades, as well as other Internet-related hardware, as part of the Emergency Connectivity Fund (ECF). Demand was huge, and many schools weren't able to get the money they needed. Others missed the filing deadline or had other bureaucratic issues, brought about by the ongoing disruption of COVID-19 and its variants.
So, the FCC has procured another $5.1 billion in funding to further help cash-strapped districts install the upgrades they need.
These are the most important details.
How does a district apply for ECF funding?
The applications will need to be submitted online through the FCC's application portal. As of this writing, it is currently closed. Full details on how to submit an application are available here (PDF) from the FCC.
When can a school district apply?
The window for applications in this second round is extremely short, only two weeks. Districts should prepare as soon as they can. Applications will only be accepted between September 28 and October 13, 2021. We strongly suggest districts do as much as they can ahead of time to minimize the chance of problems during the application window.
What hardware and upgrades are covered by the ECF program?
The program will pay for school bus Wi-Fi upgrades, as well as numerous other devices relating to Internet access and online connectivity. These include:
Modems/air cards
Routers
Switches
Connecting devices such as laptops and tablets
Broadband connectivity costs
In certain situations, schools may also be able to apply for funding for entire network upgrades if they can demonstrate their current hardware is too limited to support their students and staff.
In all cases, the upgrades must be intended for use during the 2021-2022 school year and be purchased between July 1, 2021, and June 30, 2022.
How much funding can a school receive?
In most situations, a school can apply for as much funding as they need - as long as it is "reasonable" in the view of the FCC - but there are limits on how much reimbursement they get per device. Under normal circumstances, they will reimburse up to $400 per tablet or laptop and up to $250 for each modem, switch, or router.
Should a district need to purchase more expensive equipment, such as business-grade routers capable of supporting large numbers of users, they can detail their needs in a separate request, but these are not guaranteed to be accepted.
For more information, we recommend districts visit the FCC's ECF website, as well as its Frequently Asked Questions.