School Bus Transportation: Plans for Volkswagen Funding
published on September 06, 2019 by Sonia Mastros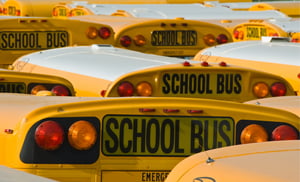 In 2015, it was revealed that German car maker Volkswagen - along with all their associated subsidiaries - had been engaging in widespread fraud to cheat results of emissions testing on many of their vehicles. Ultimately, VW had been cheating going back to roughly 2008, releasing millions of cars and other vehicles that were in violation of US environmental laws.
This led to a series of court actions, culminating in a massive settlement: VW would create a $2.9 billion dollar trust fund, to be dispersed to the states for the purpose of reducing emissions. For the most part, these funds were assumed to be for upgrading or replacing larger vehicles - potentially including school buses.
How will this impact your own school bus transportation system? It depends on how your state is handling the situation.
Will the Volkswagen Environmental Settlement Be a Boon for School Bus Transportation Systems?
Before a state can receive any money from the VW trust, they have to first submit a beneficiary mitigation plan which outlines how the state intends on spending the funding. There are broad outlines a state must follow, mostly involving which vehicles are eligible to be upgraded with money from the trust. However, as long as the plan involves those eligible vehicles, the states have a lot of leeway in implementation. For example, it is up to the states to decide which technologies to invest in, such as electric engines or propane systems.
That also means it's up to each individual state to decide whether they will make school buses part of their plan.
Thus far, the reports coming out of states have varied wildly in how they plan on using the funds. Ohio and New York, for example, have pledged to spend large amounts of their share upgrading school buses within their state. On the other hand, Georgia has decided to spend 100% of the money upgrading the public transit buses in Atlanta. California is going to push for all-electric upgrades to school buses and other public transportation, while Colorado is leaving it up to individual entities to decide which alternative fuels to invest in.
If you want to know how your state plans on spending its VW trust fund money, your best bet is to contact your state government. All states have a department empowered to handle these funds, often their local branch of the EPA or other Clean Air Agency. They will be the ones who can listen to your comments and suggestions as well.
Do you know if your district will be receiving VW funds? If so, how do you plan on spending them? Let's talk about it in the comments!