School Bus Safety Tips for Icy, Snowy Weather
published on February 18, 2020 by Sonia Mastros
school bus safety, student bus transportation, school bus safety tips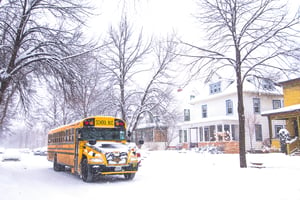 School bus safety is critical at all times of the year, but it's particularly crucial during the winter months. Snowy weather and icy roads present some of the biggest dangers a bus and its passengers can face, yet your drivers will be called on to drive in inclement weather day after day.
If you're looking for new ideas to help make these trips even safer, we've got plenty of tips.
Five Ways to Improve School Bus Safety on Icy Roads
1. Allow Extra Time
Drivers should arrive early since their buses will need time to warm up in cold weather. Also, be more lenient about drive times. You don't want your drivers to ever feel pressured to drive faster than would be prudent.
If necessary, the district might want to send out notifications to parents, letting them know buses may be delayed a bit during winter weather. That's far better than having an accident!
2. When in Traffic, Tap Brakes Early to Signal Coming Stops
Your drivers will need extra stopping distance on icy roads, so braking early is a good idea. However, it's doubly important when there are other vehicles around. Regular drivers in cars frequently underestimate how long and far it takes a bus to safely stop on ice, so tapping the brakes early will help signal the upcoming stop to drivers.
3. Avoid Use of Cruise Control
In general, using cruise control when driving a school bus isn't the best idea. It reduces driver control over the vehicle and also tends to increase fuel usage. However, cruise control should always be avoided during winter weather. Otherwise, the bus could put on sudden bursts of power at unexpected times, hitting icy patches or worse.
4. Look for Alternate Routes
Are there areas in town - or outside of town - that become particularly treacherous during the winter? It might be a good idea to change up your drivers' routes to go around these areas, even if it increases the overall length of the route. Good bus routing software makes it easy to designate areas to avoid on the map.
5. Pay Extra Attention to Maintenance
Drivers should do a full check of the bus prior to leaving, to ensure all critical systems are operating. Even small maintenance issues should be taken care of immediately - the cold weather makes it more likely they'll get worse in a hurry. In particular, make sure every light on the vehicle is working properly, to ensure good visibility to other drivers.
How does your district handle school bus safety in cold weather? Let's share our tips below!