School Bus Safety: Solving the Stranded-Student Problem
published on March 06, 2018 by Sonia Mastros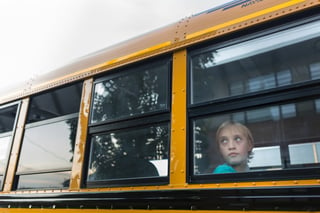 If you follow school bus safety news at all, it's hard to avoid headlines about students being accidentally left behind on buses. It happens several times a year, at a minimum, and always causes concern. Sometimes the police are involved. Sometimes, careers are ruined for that one mistake alone.
Obviously bus drivers should be making sure no child is ever stranded on a bus. But sometimes what seems like a relatively simple idea in theory turns out to be more complicated in reality; it's easy for small children to slip behind or under seats where they're difficult to see. When a driver is distracted, he or she may forget to look under every seat during a walk-through.
There's no perfect single solution here – at least, not yet – but there are ways that school districts can help prevent stranded students.
School Bus Safety: Getting Every Child Off the Bus, Every Time
Better driver training
Starting with the basics, be sure to emphasize this point in your bus driver training: At the end of every route, check under and behind every seat. When done correctly, it should only take a minute or so. Really hammer home the difference between this minor safety check and the damage that could be caused by ignoring it.
Look through the back emergency exit
This is a useful trick for making sure a small student isn't hiding out: Open up the back door and look into the bus from the outside. The driver's eyes will be near the floor level of the bus, and should have a very clear view of most of the floorboard.
Have a second walk-through
Since checking under seats is an easy task to accomplish, why leave it solely on the drivers' shoulders? Having a supervisor or aide do a second check after the driver signs off on the school bus won't take much time, and will drastically reduce the already-small chances of a child being left behind. If the second inspection finds a surprise stowaway, the driver can be quietly disciplined without the incident making headlines or police involvement.
Use visual indicators
Have drivers stick flags in a window that say "Bus Empty." The signs can help remind other drivers that they need to check on their own buses.
Look to future technology
A new sensor called EDGE3 supposedly can detect any motion or life left behind on an "empty" school bus. If it lives up to claims, it could effectively eliminate the problem of stranded students.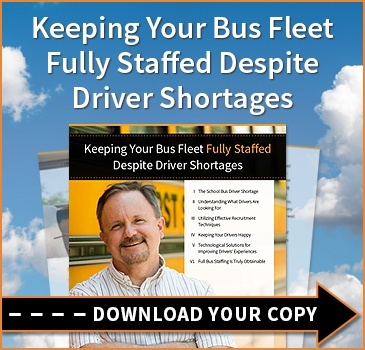 What about your district? What do you do to help prevent students from being stranded on buses?