School Bus Safety News: California May Delay Child Reminder Alarms
published on April 27, 2018 by Sonia Mastros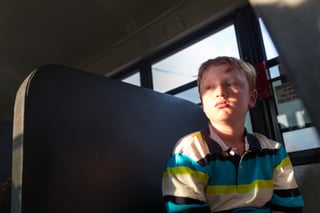 One morning in 2015 a nonverbal, autistic high school student named Paul Lee was left behind on his Whittier, CA, school bus. Eight hours later, in temperatures approaching 100 degrees, he was dead – not discovered until it was time for the bus's afternoon route. It was a genuine tragedy, one which highlighted how important it was to always guarantee no students were forgotten on school buses.
This brought the matter of bus safety to the forefront of California legislation, and shortly afterward, the Paul Lee School Bus Safety Law was enacted. The key provision in the law was that by the beginning of the 2018-19 school year, all California buses (with a few exceptions) would have to be outfitted with devices designed to prevent a similar tragedy from occurring. Specifically, buses would have a device on the back door which required the driver to manually deactivate it at the end of their routes, guaranteeing drivers walked all the way to the back before exiting the bus.
That plan may now be delayed.
California Senate Bill 1086 and Its Impact on School Bus Safety
On February 12, 2018, Bill 1068 was introduced to the California Senate. It contains one key change to the existing Paul Lee law: it moves implementation of the plan back to the 2019-20 school year. Since its introduction, there has been no further movement on Bill 1068. It has until March 15 to see a vote before it expires.
You can only speculate as to the motivation behind this bill because Democrat Tony Mendoza – the senator introducing the bill – included no text explaining his rationale. He was also among the senators supporting the original Paul Lee law. Perhaps school districts expressed concern about being able to install the upgrades on time, given how many districts are under financial pressure. Many districts are finding themselves between the proverbial rock and a hard place. Parents and legislators want better school bus safety features, but many districts lack the funding to implement substantial improvements.
The devices mandated by the bill are only one of several possible solutions which a district might implement to prevent abandoned school bus riders. The Ambient Sensing Node (ASN) is a technology that goes beyond the basics: It's an ambient sensor capable of detecting any life or movement on a bus. There are also numerous policies a district might implement to encourage drivers to do full checks of the bus after every drive to prevent similar tragedies.

What do you think? Is mandated technology the way to improve school bus safety? Let's talk about it below.