School Bus Safety Issues You Need to Watch for 2016
published on December 15, 2015 by Sonia Mastros
GPS Tracking, school bus safety, school bus gps tracking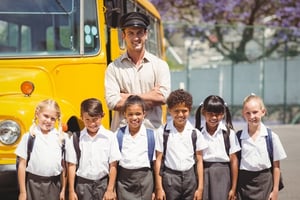 Each day, over twenty three million students begin their day with a ride on a school bus. For school transportation experts, student and driver safety is a top priority. Each year, the National Association for Pupil Transportation organizes the National School Bus Safety Week. The 2016 theme is "STOP ON RED."
Preventing school bus accidents takes constant vigilance. Here are some school bus safety issues to watch out for in 2016.
Red and Yellow Flashing Lights
School bus laws vary from state to state. Unfortunately, not all drivers have a clear understanding of the meaning of indicator lights on school buses. School district transportation departments can work with local law enforcement agencies and their community to get the word out about the importance of flashing lights on school buses.
Encourage advocates to share safety information and details about bus flashing light laws by writing letters to the editor, speaking to local service organizations and distributing literature to parents and the community at large. It's more than just a theme, these lights save lives.
Routes
The route that a bus takes can have a huge impact on the safety of passengers and drivers. Risks from traffic congestion, dangerous road conditions and hazardous stops can lead to life or death situations. Optimizing bus routes accommodating right sided pickups leads to more than just financial benefits. Keeping the safety of every person who encounters your buses in mind is key to finding routes that are truly optimized.
Many school districts are now incorporating state-of-the-art GPS technology into their buses. This keeps administrators aware of the location of each bus and if any are experiencing route deviation or stops that are out of the ordinary.
Ensuring the safety of students, drivers and pedestrians is the most important task that transportation administrators are responsible for. Reviewing your safety plan and ensuring that all elements are up to date should be a key goal for 2016.
For more information about school bus safety, contact our team of transportation experts. We will discuss route optimization, safety strategies and how technology like GPS tracking can reduce the risks for your drivers and students,
What are the top safety concerns for your school district? We'd love to hear your comments on school bus safety.