School Bus Safety: Illegal Passing Exceeds 30K in New York
published on March 07, 2017 by Sonia Mastros
Student Safety, school bus safety, illegal passing, New York school buses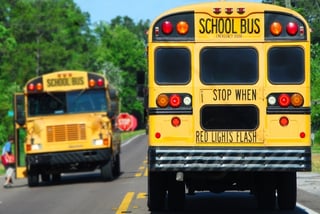 Illegal passing is an enormous school bus safety concern around the country. One recent New York study shed some light on the problem and just how vast it's become. According to the report, tens of thousands of vehicles pass stopped buses each and every day.
Operation Safe Stop Day
In an effort to increase school bus safety, New York police officers participated in Operation Safe Stop Day. Law enforcement officers rode buses and followed behind in patrol vehicles to ticket drivers.
A staggering number -- topping 30,000 -- of drivers passed school buses in the one day study. Safety advocates hope that a law will be passed that requires mounted cameras on the outside of buses. This would keep a record of anyone who passes illegally, resulting in a fine for the offender. Young children are particularly at risk when it comes to passing school buses. Their small size and tendency to dart quickly to and from the bus makes them hard to see, one important reason why laws against passing exist.
New York School Bus Safety Laws
New York is one of the only states in the country where it is illegal to pass a school bus on a divided road. When stopping for a school bus, drivers must be at least 20 feet away. Drivers who come any closer could face a ticket. Even first-time offenders may end up with a fine of up to $400, along with points on their license. Repeat offenders may end up with jail time.
Regardless of the strict consequences in New York, illegal passing of school buses continues to be a safety concern for students, drivers, and school district officials. During the 2012-2013 school year, six students were struck and killed by drivers illegally passing school buses. School districts across the country are beginning to employ similar measures to those used in New York to ensure school bus safety for their students.
Along with cameras, school districts across the country are utilizing student management software to keep students safe on the road. With new tools and an increased focus by lawmakers on school bus safety, riding the bus is a safe and cost-conscious option. To learn more about the technology available through BusBoss, contact our team of transportation specialists.
How is illegal passing handled in your school district? We appreciate your feedback on this important topic.