School Bus Routing: From Hard Copy to Digital
published on December 11, 2018 by Sonia Mastros
school bus routing software, School Bus Routing, School Bus Routing System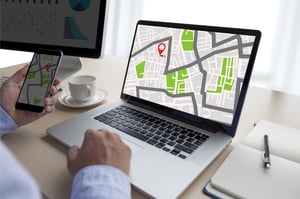 If a school district were looking for a single piece of software which would do the most to streamline its operations and potentially cut costs, school bus routing software is easily one of the best options. It's an affordable all-in-one package that will take a lot of burdens off your shoulders, while creating better maps that will almost certainly save you money on every bus route going forward.
Here are just a few ways that school bus routing software pays for itself.
Five Reasons to Go Digital With Your School Bus Routing
1. From Days, to Minutes
Once the software is fed a list of student addresses, along with some general guidelines on factors such as "average distance from a house to the bus stop," it can create a complete map within a matter of minutes at most. Usually, it's a few seconds. Compare that to how long it can take to create a route map by hand!
2. Optimized How You Want
Bus routing software is going to produce highly optimized maps which are usually better than what a human could come up with. Beyond that, though, they can be optimized for your needs. You could try out different maps, optimizing for time or for speed or for certain numbers of bus routes.
In some cases, you might even find it's possible to fully cut one or more buses from your routes. Think of the savings!
3. Simple Updates
It's hard enough creating a single route map by hand, but it gets more complicated during the school year with students moving. You can save yourself the hassle with software, however, since it can easily revise routes based on changing student populations. Just a few clicks, and the new map is ready.
4. Better Communication With Parents
When you can create your bus route maps early and quickly, that means you can communicate them to parents more easily as well. Parents will know sooner what bus their child will be riding, and when to drop them off, making their lives easier. (And happy parents usually make for happy district managers!)
5. Integrate With Technology for More Savings
While not required purchases, school bus routing software can be paired with other technologies you might purchase in the future. For example, you could combine it with GPS systems to have consistently updated real-time monitoring of buses on the road. You'd also get plenty of data to help you refine your maps further, for even better on-the-road savings.
BusBoss is the industry's premiere solution for school bus route creation and tracking. To see the power of our affordable software packages for yourself, just download the free demo.