School Bus Fleet Management: Using Technology to Manage Risks
published on October 10, 2017 by Sonia Mastros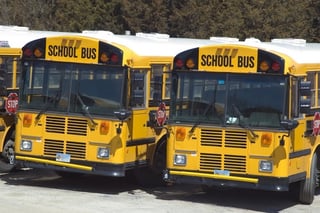 Taking preventative measures to reduce risks when routing children is especially important in all sectors. Managing risk is an important component of school bus fleet management and technology is helping to ease the burdens that transportation officials face.
A Focus on Training
Keeping risks to a minimum requires a well-trained staff, and technology is changing the landscape of driver training. Training that once took place on the road and in the classroom can now be conducted over the Internet and in simulated environments. With more training options, school districts are utilizing education to reduce risks and provide additional resources for school bus drivers so that they can do their job well.
School Bus Routing
Technology is also helping school districts to establish safer routes for their bus fleets. Sophisticated school bus routing software is helping transportation teams to build routes that avoid road hazards, security threats, high-crime areas, and traffic. This technology can even be implemented for transportation to field trips and other off-campus activities. Routing software with incident reporting features allow school districts to keep accurate records, preventing liability and allowing supervisors to easily review information as needed.
Staff Supervision
Effective school bus fleet management includes the supervision of school bus drivers. Prior to the advent of new technologies that assist with this task, this was one of the most complicated aspects of risk management for school transportation departments. Ride-alongs and reporting told only part of the story. Fortunately, technology came to the rescue and now buses can be tracked in real-time, using GPS systems that can alert supervisors when a bus is speeding, is deviating from its route or makes an unauthorized stop. This greatly reduces the chance that school bus drivers will take unnecessary risk.
Would you like to learn more about how technology can help with your school bus fleet management processes? Contact the team at BusBoss to discuss your risk management plan and how our state-of-the-art tools can help you keep students safe. We offer a comprehensive suite of technological tools that are specifically designed for school transportation departments.
How has technology improved the way that your school district manages risks? Which tools have made the greatest impact? Please share your thoughts with us.