School Bus Driver Strikes And Protests Becoming More Common
published on December 14, 2021 by Sonia Mastros
school bus drivers, school bus driver training, school bus driver retention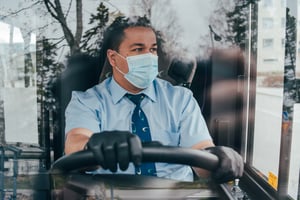 The ongoing shortage of school bus drivers may be hitting a breaking point. Schools were already struggling to keep enough drivers on-staff to fulfill their transportation obligations despite the disruption of COVID-19. Now, there's a new threat: school bus driver protests and strikes.
In the past month, at least three districts have seen major protests or strikes among their drivers. This is something districts cannot afford, so it's important to take a look at their causes to see if anything can be done to prevent such moves in other districts.
Lee County School District
Lee County School District, in St. Myers Florida, recently saw a round of protests from its drivers. The drivers were calling for better treatment, including higher pay for veteran drivers, and better health benefits.
The drivers emphasized that they were not striking, and the protests were done outside of normal driving hours. So far, the district has not responded to their requests.
Savannah-Chatham County Public School System (SCCPSS)
More serious protests and sickouts have been happening in Georgia's SCCPSS district for the past month, with dozens of drivers participating. Their demands are similar to those of Lee County's drivers: better treatment and better wages, along with additional demands for more health and wellness protections. Claims include that they are given cleaning products, but no time to actually use them.
More than 20% of the district's drivers have been participating. This is apparently part of ongoing disputes over pay and compensation that have gone unresolved. Currently, the union for the district does not sanction these protests.
Fairfield Public Schools
Fairfield Public School District in Connecticut is facing a different kind of protest, and one that's more worrisome: hundreds of drivers threatening to walk off the job due to state-level COVID-19 vaccine requirements. In this case, they're protesting actions by Connecticut's governor that the local district has very little say in, which makes it even more difficult for the district.
It's notable that this is the exact opposite of the Georgia protests. Some drivers want more protections, others are protesting being forced to take precautions.
There have also been similar threats of a call-out day in Clark County School District, in Las Vegas. These are also inspired by vaccine mandates.
An Impossible Situation?
It's hard to even see a clear path forward for districts here. School bus drivers are being put under increasing pressure as the driver shortage continues, and districts are under severe financial pressures due to the ongoing COVID-19 outbreak.
This seems like a situation where state governments need to start getting involved, and doing more to guarantee proper bus driver staffing. Otherwise, districts need to be keeping a laser focus on driver morale, and trying to head off such protests before they happen.
Do you have any other suggestions? Please share them in the comments.