School Bus Contractors: CERTS Coronavirus Relief Grants Detailed
published on July 09, 2021 by Sonia Mastros
student bus transportation, School bus industry, school bus contractors, COVID-19 relief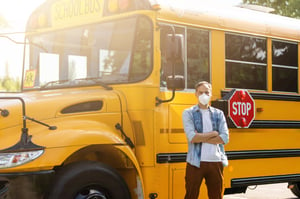 Near the end of 2020, Congress and President Trump passed the Consolidated Appropriations Act of 2021, which contained provisions for $2 billion in economic relief for transportation companies negatively impacted by the COVID-19 outbreak. These provisions are known as the Coronavirus Economic Relief for Transportation Services (CERTS) grants. This was excellent news for school bus contractors, who have been suffering under the ongoing restrictions and lockdowns, along with schools being slow to reopen.
However, months passed without any details being released on how this money would be disbursed. Finally, in early May 2021, the U.S. Department of the Treasury released full details (PDF) on how the grants will be handled.
How School Bus Contractors Will Be Able To Apply For CERTS Funding
There are four primary qualifications for receiving CERTS grants.
1. The transportation company must be privately owned. This includes most school bus contractors, but also a variety of other transportation services from civilian bus fleets to seagoing passenger vessels.
2. The company must have "significant" operations in the United States, with a majority of its workforce based in the US.
3. The company must have demonstrably lost at least 25% of its expected revenues due to the COVID-19 outbreak.
4. The company must have already been in business as of March 2020. Companies which later declared bankruptcy or ceased operations due to regulatory or economic pressure are still eligible if they remain in business.
The grants are non-competitive, so every qualifying company which applies will receive some amount of money. However, the amount given out will be very difficult for a company to predict. Disbursements will depend on both the individual company's need, as well as by how many companies apply for funding. Applicants will need to detail their losses, and how they impacted their company, but they will not be able to specify an exact amount that they are seeking.
The grants will be capped at no more than the total of what each company made during the 2019 calendar year. However, considering that the school bus contracting industry alone lost an estimated $8 billion in 2020, and these grants only provide $2 billion for a wide range of transportation companies, it seems unlikely many companies - if any - will hit that cap.
At the time of writing, companies cannot yet apply for these funds. The Treasury Department is currently building a web portal for processing applications. According to STN, officials declined to release an official estimate for when this portal will become available.
When details about the portal are released, they will be on the official CERTS program webpage. BusBoss will continue to follow this issue and report as new developments happen, so please continue to follow our blog for all the news!
What do you think about the CERTS relief grants? Let us know in the comments below!