Safeguarding the Future: Future-Proofing Your School Bus Fleet with Technology
published on November 17, 2023 by Sonia Mastros
BusBoss, route optimization, route planning software, school bus routing software, School Bus Technology, School Bus Routing System, inefficient routes, outdated routes, inaccurate routes, route efficiency, state reporting, re-routing, bus shortages, driver shortages, school bus route planning software
Technology investments in your school bus fleet are a tricky business because you need to have one eye on your current needs, and the other eye on the future. Any purchase should be as "future-proofed" as possible, intended to be used for many years, and capable of being modified or upgraded at minimal cost.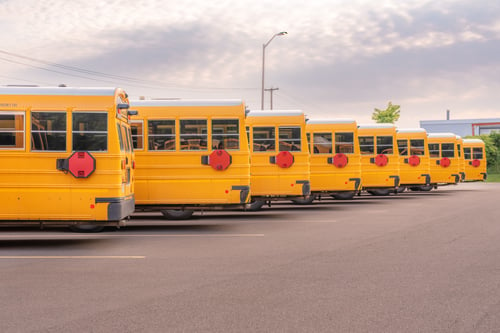 As industry leaders helping schools modernize their transportation systems, we know how to find the right balance in technology. Here are some of the lessons we've learned over the years.
Future-Proofing Your School Bus Technology Investments
1 - Avoid vendor lock-in
This is the biggest mistake we've seen districts make: choosing a technology partner with bespoke solutions that aren't compatible with other products on the market. For example, database systems that won't link to standard database types, or hardware that uses unusual plug or connector configurations.
The danger here is twofold. First, that means you're locked into buying products from the vendor, and in danger of being exploited. Worse, if the vendor fails, you might be stuck with technology you cannot upgrade or repair.
2 - Emphasize inter-operability
The trend in transportation software solutions is towards software that connects easily to other standardized software packages. This makes it more convenient to silo your data - putting it all in a single easily-accessed place - which in turn makes it easier to run data analysis.
This is also a key aspect of future-proofing. Software and hardware that already 'talks to' other products will be more likely to remain flexible and interoperable in the future.
3 - Focus on cloud-based software solutions
While the cloud does bring some security issues, cloud services are better for future-proofing because they rely2 on standard Internet connectivity. In addition, they ensure that authorized individuals can access key information whenever they need it. Products such as Student Information Systems (SIS) or parental notification apps work best when they have guaranteed universal access across numerous devices.
4 - Benchmark before you upgrade
After investing in new technology, you need to be able to track its success and justify the investment with hard proof. So, you should benchmark your transportation system before upgrading specifically so you have a standard to measure against. Metrics you might choose could include number of buses on routes, average route length, daily costs, and similar numbers.
If you take time to isolate your own key performance indicators and benchmark them before upgrading, it becomes far easier to demonstrate your success later on.
5 - Pay attention to security
Security is a huge concern for any student-related technology upgrades. You cannot allow online criminals to gain access to protected information on your students. So, before making any investment, ask a lot of security-focused questions.
How is it protected and - more importantly - how is it updated? Any tech upgrades you make, particularly those with online connectivity, should have robust support for over-the-air security patching to ensure your systems remain secure.
How does your own district handle technology future-proofing? If you've found efficient processes for evaluating upgrades, please share them in the comments!