Route Optimization: 4 Environmental Reasons To Reduce Your Bus Fleet
published on December 30, 2014 by Sonia Mastros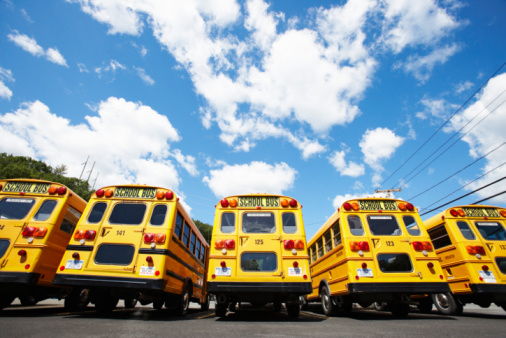 In a perfect world – to protect your students and the environment, to cut back on unnecessary spending and to comply with clean-air government policies – you'd retrofit your bus fleet or upgrade to newer buses to limit your diesel exhaust emissions.
However, with federal budget cutbacks for clean diesel programs and the high cost of replacing old school buses with new ones (think $125k-$175K per bus), you need a more reasonable alternative to reducing carbon emissions.
Bus route optimization – in which you reduce the number of buses and routes needed for your school bus transportation – is a viable alternative that has a positive impact on the environment and your budget.
Here's how route optimization and transportation efficiency helps the environment:
1. Reduces Your Bus Fleet's Gas Usage
Fuel economy is a hot-button topic in today's world. In theory, school buses reduce pollution – approximately 480,000 school buses in the U.S. do the job of 17.3 million cars. However, inefficient school bus route management still results in more energy usage and more pollution than is necessary.
By cutting back on the number of buses you need for your bus routes, you end up saving money on fuel while also reducing carbon emissions. With bus route optimization software, you are able to decrease the number of buses in your fleet.
2. Minimizes Dangerous Idling Exhaust Fumes
School buses are powered by internal-combustion engines that use diesel fuel. Another environmental drawback to your bus fleet is idling engines emitting exhaust fumes as students enter and exit the vehicle. In fact, the EPA has issued various no-idling policies for school bus transportation. Unnecessary school bus idling releases "black carbon," which negatively impacts human health, pollutes the air, wastes fuel and causes excess engine wear.
To better manage your school bus idling times, you should implement school bus route optimization software equipped with GPS tracking that can store safe idle zones to send alerts when buses are idling where they shouldn't be or idling too long.
3. Lessens Traffic Congestion And Miles Traveled
The transportation sector is the fastest growing source of greenhouse gas emissions, accounting for 47 percent of the total net increase in the U.S. since 1990. Reducing carbon emissions also comes down to decreasing the growth of vehicle miles traveled (VMT) to lessen the length of time your school buses operate.
Bus route optimization software helps decrease VMT in a few ways. Routing software helps improve route optimization and reduce the number of vehicles needed in your bus fleet. However, the right software also helps minimize your routes by establishing safe walking distances for students who are close enough to school so they don't need to take the bus.
4. Improves Your Bus Fleet's Impact On The Ozone
Nitrogen dioxide (NOx) emissions from a diesel-fueled bus fleet have a negative impact on ozone formation, which contribute to fine airborne particle matter and global warming that cause harm to you and your students' health.
With route optimization software, you get peace of mind that you're doing your part for your students' health and reducing your environmental impact on the planet.
In an effort to reduce your bus fleet's emissions through improved transportation efficiency, routing optimization software also helps your school district or transportation management company save money on unnecessary spending. When you cut back on idle times for buses, you also save money on wasted fuel and wear-and-tear on your school bus engines.
But, the most critical reason to improve your school bus route optimization is the health and safety of students. When you are able to reduce the diesel exhaust your bus fleet emits, you minimize student exposure to this human carcinogen that contributes to acute and chronic health concerns.
Ready to learn more about school bus route optimization software to improve the environmental impact of your bus fleet? Click here or call 484-941-0820 to speak with a BusBoss student transportation expert.