Protecting Your School Bus Drivers As Schools Reopen
published on December 01, 2020 by Sonia Mastros
school bus drivers, school bus safety tips, school bus safety plans, covid-19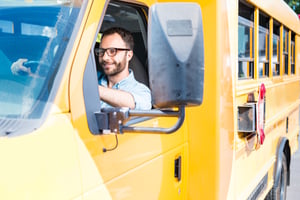 As schools look to reopen in Fall 2020 despite the ongoing COVID-19 outbreak, one of the biggest challenges will be in successfully adapting their student bus transportation system. When crafting safety plans, it's vital that one group not go overlooked: your bus drivers.
Your drivers will be at a very high risk of contracting the coronavirus, or at least coming into contact with it, which is a big problem for numerous reasons. It's hard enough to find bus drivers right now, so if too many got sick, it could cripple your student bus transportation system. Also, an infected driver could potentially infect entire busloads of students, not to mention their co-workers.
So drivers must receive a high priority, when choosing safety measures for your buses. Here are a few tips.
Four Ways To Help Protect Your Bus Drivers During The Coronavirus Outbreak
1 - Require masks and gloves at all times
This one is basic, but important to remember. For drivers, a mask and gloves should be absolutely mandatory whenever they're driving the bus or around students. If at all possible, they should be wearing N-95 masks, which are the only mask type which can truly block virus transmission. These masks can cause issues for people with respiratory conditions, but exceptions should be few and far between.
2 - Provide dedicated hand sanitizer and disinfectant
While every part of your buses should be cleaned and disinfected in between routes, this is particularly important for the driver's seat and console. These frequently-touched areas will be a haven for germs, if they aren't cleaned regularly and thoroughly. Drivers should sanitize exposed skin whenever they come into contact with students, particularly if they ever do so without gloves.
3 - Install plexiglass barriers
The National Highway Traffic Safety Administration recently confirmed that having plexiglass barriers around the driver's seat is acceptable, as long as those barriers conform to existing regulations on visibility and safety. When set behind and to the side of the driver, it can create a small virtual compartment which will do a lot to shield the driver from infection. They will likely also have a psychological benefit as well!
4 - Consider expanding health coverage
If your drivers do not currently qualify for health care benefits, consider revising your policies. Not only will it help them if they contract the coronavirus, but it will be a major selling point when you're trying to hire or retain drivers. Show that you care about their safety.
Maintaining driver safety within your student bus transportation system will be extremely difficult. How is your district tackling the challenge? Please share your tips and thoughts in the comments.