New York Launches School Bus Driver Outreach
published on December 17, 2021 by Sonia Mastros
School Buses,, school bus driver shortage, recruit school bus drivers, school bus driver outreach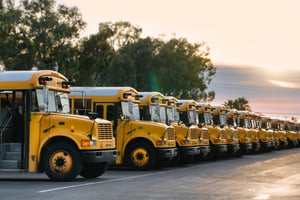 In previous articles, we mentioned that it seemed like state intervention may be called for when dealing with the school bus driver shortage - and apparently, New York agrees. New York Governor Kathy Hochul recently announced a series of state-level actions intended to help alleviate the driver shortage across all of its districts.
What is New York doing? And what more could it or other states potentially do? Let's take a look.
How New York State Is Trying to Reduce the School Bus Driver Shortage
1. Direct Messaging to CDL Owners
The biggest single element of New York's new initiative is implementing direct outreach to people with commercial driver's licenses (CDLs). Every CDL-holder registered in New York will be receiving messages reminding them that driving school buses is an option.
The state will be taking responses to these messages and compiling lists, which will then be shared with districts near each respondent.
2. Expedited CDL Testing
Another change is aimed at reducing the amount of time it takes for people to become licensed commercial drivers. The state is eliminating a 14-day waiting period between permit tests and road tests. In addition, it will also be expediting procedures for CDL holders to get testing and certification on buses.
While a relatively small measure, any little bit helps when it comes to safely getting new CDL drivers on the road.
3. Potentially Creating a Bus-Specific License
Another idea currently being debated in the NY Congress is a measure that would carve out a special license for school bus drivers, separate from traditional commercial licensing. This would presumably have lowered requirements, allowing more people to obtain bus licenses more quickly.
However, there are obvious concerns with reducing requirements for licensing, and the measure continues to be discussed.
What New York Isn't Doing: Providing Funding
Perhaps the most disappointing aspect of the announcement is that the state will not be providing any additional financial aid to struggling districts. Instead, Governor Hochul recommends districts find "creative" ways to deploy federal funding to attract drivers.
This is unfortunate because more than anything else, wages and benefits are at the heart of the school bus driver shortage. CDL holders are in high demand across the country, in virtually every field that requires commercial licensing. Districts aren't only competing with each other for drivers - they're also competing with private transportation companies, shipping interests, construction companies, and many more commercial operations with deep pockets.
There does not seem to be any reasonable way a publicly funded district could compete on wages or benefits in this situation. Additional state funding would go a long way towards leveling this playing field.
What do you think? How could your state do more to help your district find drivers? Let's talk about it in the comments!