New York City School Buses to Go Electric
published on March 12, 2020 by Sonia Mastros
electric school buses, New York school buses, School Bus News, electric school bus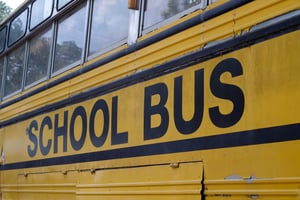 For fans of electric school buses and other electric vehicle initiatives, there's big news to celebrate coming out of New York City. Recently, the mayor of NYC, Bill De Blasio, signed an executive order which mandates that all NYC government fleet vehicles be electric by 2040 - and that includes the school bus fleets.
Given that NYC manages an approximate nine thousand school bus routes across the five boroughs, this is a genuinely unprecedented move away from fossil fuel vehicles - and likely to be a big shot in the arm for the electric school bus movement.
How NYC Will Go All-Electric By 2040
The beginnings of this initiative came in 2018, when New York state Governor Andrew Cuomo called for 50% of the state's electricity come from renewable sources by 2030. This was then paired with a pilot program, where New York City purchased and tested five eLion electric buses. eLion is one of the largest manufacturers of electric school buses, with hundreds of buses already on the road across America.
That pilot program, along with its requirement to start adding powering stations for the electric vehicles, led to De Blasio deciding to go all-in on electric vehicles.
In addition to the order to switch over to EVs, De Blasio also ordered that NYC cease adding any new infrastructure based around fossil fuels. There are also plans to begin retrofitting buildings to reduce harmful emissions.
In short, New York City is about to point the way towards how any urban center can move towards more environmentally-conscious infrastructure.
Electric Buses Are Perfect For Urban Environments
Electric school buses are not an all-purpose solution for school bussing, at least not yet. They still struggle to have battery capacity for more than a couple hours, and there is the ever-present need for charging stations. This makes them challenging to deploy in rural areas, or cities comprised of endless suburban sprawl - but they're perfect for a city like New York.
With relatively short bus routes - in terms of distance - and the potential to have a high density of charging stations installed quickly across the city, this will be a truly excellent opportunity to show off electric school buses in the best possible environment.
Plus, such a large-scale government purchase will help spur more innovation in electric buses, and hopefully push the price down further.
What Are Your Eco-Friendly Bus Plans?
The winds of change are increasingly blowing in the direction of alternative fuels - either electric, as NYC is embracing, or running a cleaner fossil fuel such as natural gas. Is your district starting to consider moving away from gasoline/diesel? Let's talk about it in the comments.