New RE Series School Bus in Production Offers Improvements In Performance And Safety
published on April 24, 2018 by Sonia Mastros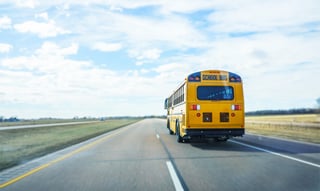 The RE Series school buses from IC Bus are already a popular solution for student bus transportation, but they're about to get significantly better. IC Bus has just announced their newest Type D buses, already going into general production, and they offer some substantial improvements over previous IC offerings. In particular, we're impressed by the range of safety features being integrated into these buses.

So let's take a look at what might be your district's next vehicle investment!

A Sneak Peek at The New IC Bus RE Series Type D

From a performance standpoint, the biggest upgrade to these Type D buses is under the hood. They now feature a Cummins L9 diesel engine, which brings 300 horsepower and 800 ft-lb of torque. According to IC Bus spokespeople, this engine has the best power-to-weight ratio in its class. That extra torque is particularly important for helping buses get up to speed quickly, which can otherwise be a safety concern.

The Type D also features greater internal capacity, without sacrificing the comfort of either riders or the driver. The Cummins L9 helps ensure the additional riders don't inhibit performance.

However, to our minds, where this new bus really shines is in its integrated safety features. This is a future-focused build that goes a long way towards protecting riders, including:
IMMI/SafeGuard™ seats – The seats themselves are designed to protect students in case of impact, and can also be obtained with or without seat belts. Their belt systems are easy to use, and less expensive than many alternatives.
Improved windows – Their new window design is easier to open and creates a better gap-free seal when closed. Being easier to operate could make a difference in case of accident!
OnCommand® Connection remote diagnostics – These can make bus maintenance and management much easier, as well as giving you the ability to oversee your bus's mechanical functionality while on the road.
Rosco Vision™ camera systems – These buses come standard with video camera technology. Onboard cameras can substantially improve behavior among riders, as well as provide a record of any incidents that might occur.
All told, this is an excellent set of upgrades, and what appears to be a superior student bus transportation solution. The video camera and remote diagnostic systems would also pair well with third-party GPS and route management systems, to give your office even more direct oversight of your buses while they're on the road.
What do you think? Are there other features you'd like to see become standard on school buses? Let's talk about it in the comments below.