Missouri School District Gets 110 Type C CNG School Buses
published on March 31, 2017 by Sonia Mastros
fleet optimization, alternative fuel, Missouri School buses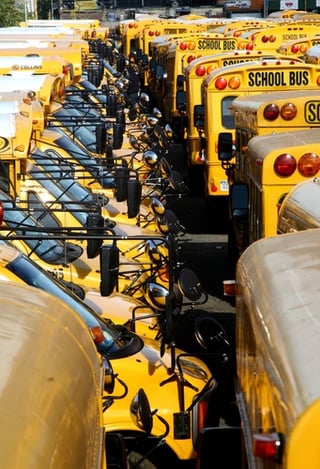 Use of alternative-fuel school buses continues to expand around the country, and represents a promising shift away from unsustainable (and polluting) oil-based fuels. Today's news comes out of North Kansas City School District (NKCSD), in Missouri, which has recently made an unprecedented purchase of Compressed Natural Gas (CNG)-powered buses.
North Kansas City School District Adds 110 CNG Vehicles to Increase Their Fleet Optimization
Beginning with this fall's semester, students in NKCSD will ride on more than one hundred CNG-powered vehicles. The buses in question are Saf-T-Liner C2 CNG models and, according to manufacturer Thomas Built, it's the largest single order for these vehicles they've fulfilled for a single school district.
Saf-T-Liner C2 CNG buses offer a capacity of up to 81 passengers each, 240HP with up to 560 foot-pounds of torque, and an overall reduction of greenhouse gas emissions up to 13 percent less than traditional gasoline. They also come standard with green trim to accompany the traditional school bus yellow, to distinguish their alternative-fuel use.
Natural gas may be a fossil fuel, but it still offers several distinct advantages over petroleum for US school districts. The US has large natural gas reserves in\under the country, making it much more cost-efficient than gasoline in many cases. Higher energy conversion ratios also allow for better miles-per-gallon than gasoline. Additionally, natural gas is cleaner-burning and releases fewer pollutants into the atmosphere.
For districts more interested in other alternative fuels, Thomas Built offers a propane-powered variation of the Saf-T-Liner C2 as well.
Either form of combustible gas offers significant advantages over gasoline, and as we've noted previously, their use in school districts around the country has been going up rapidly in recent years. The combination of eco-friendliness and cost savings over gasoline is hard to beat.
Save Even More on Transportation Costs With BusBoss
Whether your school is in a position to consider an upgrade to alternative fuel systems or not, you can still cut your transportation costs with the right software systems. BusBoss is designed to optimize every aspect of your bus system, from individual routes to fleet optimization to laying out entire new districts, while giving you vast amounts of data to find even further insights into your transportation costs.
To see for yourself just how powerful a single software solution can be, contact us for a free demo.