Mississippi Early Replacement School Bus Program Aided by EPA Funding
published on January 16, 2020 by Sonia Mastros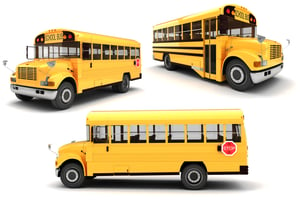 Passed in 2010, the Diesel Emissions Reductions Act (DERA) was a forward-looking piece of US legislation aimed at reducing pollution on the nation's streets and highways. At its heart, it is a loan and grant program, authorizing the United States Environmental Protection Agency (EPA) to disburse millions of dollars in funds to states, or individual organizations, for the purpose of upgrading fleets away from unclean diesel engines.
The DERA program has turned out to be a particular boon to states and school districts looking to upgrade their school bus fleet. As bus upgrades can be particularly difficult to accomplish on the tight budget schools often have to work with, DERA has allowed districts across the country to significantly reduce the amount of pollution coming from their buses.
In the year 2019 alone, the EPA has given out more than $9 million dollars for the purpose of upgrading school buses. Most recently, Mississippi has been announced as a DERA award winner. This will undoubtedly bring big changes to their bus system.
Mississippi Wins Federal Diesel Upgrade Grants
In October, it was announced that the Mississippi Department of Environmental Quality (MDEQ) was going to receive a grant of $478,395, which will go into its State Clean Diesel Program. In turn, MDEQ announced that the funds would be used for their Diesel Emission Reduction Grant program, which specifically helped school districts upgrade buses purchased between 1996 and 2008.
Given the growing body of evidence that pollution-causing buses are bad for both the bodies and minds of school-aged children, this represents an excellent use of Federal and state funds. It has been well-known for a long time that pollution is bad for the health, of course, but recent studies have indicated that pollution even harms test scores! In their tests, students riding low-pollution buses out-performed those riding old diesel buses, even when all other relevant factors were controlled for.
This makes it all the more vital that school districts find ways to upgrade their school bus fleet, moving away from highly-polluting engines. The DERA grants and loans allow for upgrades to cleaner-burning engines, or to alt-fuel engines, so there is plenty of room for districts to find a solution that fits them.
With more than 50% of the nation's school buses still running on older, environmentally unfriendly engines, it's good to know there are solid plans in place to increase usage of greener options.
Has your district attempted to apply for grants or loans from the EPA? How did that work out for you? Let us know in the comments below!