Massachusetts Uses National Guard as School Bus Drivers
published on December 24, 2021 by Sonia Mastros
school bus driver shortage, school bus drivers, Massachusetts school bus drivers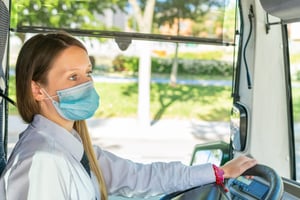 It seems like states are finally starting to get serious about helping school districts overcome the ongoing school bus driver shortage. Coming right after New York's announcement of programs aimed at recruiting more drivers, Massachusetts has taken things a step further. They're activating National Guard troops to become bus drivers for in-need districts.
Is this a good idea? It certainly seems that way.
From Swords to School Buses: National Guard as Bus Drivers in Massachusetts
The basics of the plan are simple. The governor has activated around 250 National Guard troops, assigning them to act as school bus drivers for various districts around the state.
It makes a lot of sense because Guardsmen often have commercial driver's licenses (CDLs), or at least similar training, due to their need to operate heavy military vehicles. That makes it much easier for them to quickly complete training on school buses and start running routes. According to reports, 90 are already in training, with more scheduled to begin, assuming all goes well with the first wave.
To be clear, the troops will not be armed and will be acting solely in the role of drivers. Other staff or teachers will be riding along on the buses to make sure nothing goes wrong.
Overall, it seems like an excellent plan because it takes the burden off of school districts to find drivers.
The central problem is that the school bus driver shortage isn't only about school buses. Nearly every industry that relies on CDL-holders is hurting for drivers. This means that schools are forced to compete against major business interests, such as the shipping industry, even though most schools simply do not have the budget to offer comparable wages and benefits. That puts them in a nearly impossible situation when it comes to recruitment.
By using National Guard troops, Massachusetts is getting around this problem by providing good, trained drivers who aren't going to get poached by trucking companies.
Either way, it shows how states are once again stepping up to help reduce the bus driver shortage. It seems likely that this trend will continue, as school districts run out of good options for keeping their driver ranks full.
What do you think? Should states be doing more to help out districts? Share your thoughts in the comments!