Maryland Bill Considers School Bus Capacity
published on April 16, 2021 by Sonia Mastros
student bus ridership, student bus transportation, keeping students safe, school bus capacity, Maryland school buses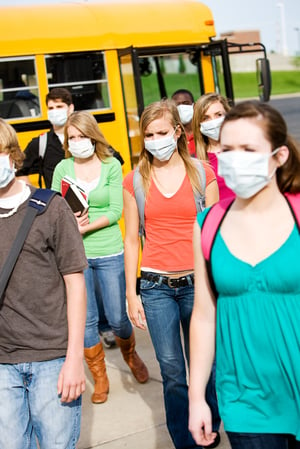 One major school bus safety issue that perhaps doesn't receive enough attention is the problem of overcrowding. When districts are low on buses or drivers, they may end up running their buses with more students onboard than is safe for the vehicle. This is definitely a problem, but it's a problem with complicated causes.
In response, the Maryland House of Reps recently passed a bill explicitly making it illegal to run overcrowded buses. While its creator touts the bill as "common sense," it doesn't seem to actually do much to combat the core problem.
Looking At Maryland's Attempt To Reduce Overcrowded Buses
Maryland House Bill HB87 was introduced by Delegate Dana Jones. The synopsis says it would require:
"...that a school bus be routed with the intent that the number of pupils on the bus does not exceed the manufacturer's rated seating capacity for the bus; and providing that if an emergency or temporary situation causes the number of pupils on the bus to exceed the seating capacity, the situation shall be corrected within a reasonable period of time."
The bill does not specify any particular penalties for violations, or who within a district would be held responsible for non-compliance.
It's not hard to see the issues with this bill. Beyond the lack of any clear provisions with enforcement, the "emergency or temporary situation" clause seems to render it pointless. As long as a transportation director, or similar individual, can say in good faith that they intended the bus to run within capacity, it would seem that this bill is toothless.
Plus, there are deeper issues at play. It's not like districts want to run overcrowded buses that compromise school bus safety. The school bus driver shortage is still going on, and if anything, has been made even worse due to the coronavirus outbreak. Likewise, even if a district has sufficient bus drivers, they may lack sufficient buses - and buses are extremely expensive to acquire, even via subcontracting.
The bill, of course, has nothing to say about how districts are supposed to overcome these hurdles.
In short, it's a bill that correctly identifies a problem with school bus safety, but basically does nothing to address the underlying causes or the symptoms that result from those causes. Articles on the matter note that the Maryland Senate seems cool on the bill, so it seems unlikely to pass.
If your district is dealing with overcrowded buses, better bus routing software might allow you to optimize your routes to avoid the problem. Other than that, if you have suggestions that other districts might be able to follow, please leave them in the comments!