Just How Serious Is the School Bus Driver Shortage?
published on February 13, 2020 by Sonia Mastros
school bus driver shortage, school bus drivers, recruit school bus drivers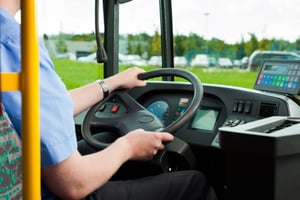 For years, the education sector has been plagued by a school bus driver shortage, and there's no end yet in sight. All signs and surveys point towards districts continuing to struggle to find sufficient drivers to cover their routes. That's causing continuing problems within the district administration, as well as for huge numbers of parents and students trying to find stable transportation options.
How Bad Is the School Bus Driver Shortage in 2020?
When it comes to nationwide statistics, the latest we have are about a year old - but they offer very little hope for much of a turnaround. According to a nationwide survey (PDF) from School Bus Transportation magazine, here are how districts around the nation described the problems they have in school bus staffing:
Desperate - 7%
Severe - 24%
Moderate - 36%
Mild - 24%
None - 9%
In other words, 2/3 of all districts in the United States are reporting significant problems with maintaining school bus staffing, while less than 1/10 are having no problems at all.
There's another vital number in that survey to look at: driver wages. Between 2014 and 2018, the average wage of bus drivers has increased by more than $2, from $14.58 to $16.62. Yet this significant increase in wages has, apparently, done little or nothing to alleviate the problem.
(For the record, the rate of inflation in that period was only about 6%, so these wages are increasing well ahead of inflation.)
More recent information about driver staffing is regional but does not paint a pretty picture either. For example, Forbes reports on how schools across the country, including Maine, Illinois, and Colorado, are having to significantly alter or reduce their sports programs, due to a lack of drivers available to take players to away games. As another example, the Philadelphia Inquirer notes that school bus driver registrations in Pennsylvania have actually decreased over the years, from 46,000 in 2013 to 44,000 in 2018.
In short, the school bus driver shortage is as bad as ever, if not worse.
No Easy Solutions to the Driver Shortage
We're well into a "do whatever works" scenario, and districts have been trying numerous things to reduce their staffing issues. Some of the more plausible ideas we've heard include:
Paid training and specifically recruiting newcomers to the field
Offering better benefits and lower hours, to recruit drivers with CDLs from other fields like trucking
Focusing on driver retention, increasing benefits and privileges to prevent losses
Staggering school start times so the same buses can run two routes per shift
We wish there were better news here, but there simply isn't. However, we would love to hear from you. How has your district been dealing with driver shortages? Let us know in the comments!