Is Your Current Bus Route Planning Inefficient? Easy Ways to Make Changes
published on June 07, 2016 by Sonia Mastros
bus routing, transportation routing software, route planning, routing software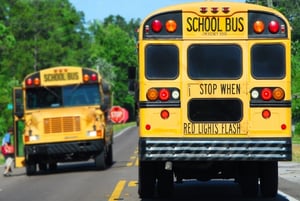 Each day, more than half of America's K-12 students take the bus to school. In fact, the school bus industry is the largest form of mass transit in the U.S. School buses keep cars off the road and the environment cleaner. Making sure that school buses run efficiently strengthens their positive environmental impact while saving districts money.
The Positives of Routing Efficiency
Along with saving money on fuel, efficient school bus route planning leads to a higher level of student safety. Effective routes not only follow the shortest paths, but also the safest paths. Stops that are chosen with care are student-focused and keep idle time to a minimum.
Easy Changes for More Efficient Routes
There are several ways to improve the efficiency of your routes. These two simple changes can save your district money and hassle.
1. Start Collecting Data.
Coming up with efficient routes requires data. Do you have a thorough understanding of exactly which routes your buses are taking and where they are stopping? At a minimum, you should collect data on mileage, route deviation due to road closures or traffic patterns, and drive time. The more information you have access to, the more efficiently you can plan your routes. This leads to solution number two.
2. Invest in Transportation Routing Software
The most efficient way to collect necessary data is by utilizing school bus routing software. There are several ways that targeted software can maximize your bus routes. By tracking ridership, stop times and route deviations, your district can find better route solutions and minimize unauthorized changes. Routing software also analyzes routes to find safe, traffic-friendly solutions that save time and fuel and minimize stops.
Making the most out of your school bus routes not only makes school administrators happy, it also eases the minds of parents. When buses are routed well, parents can feel assured that they know where their children are and that they are following the safest route possible.
If your school district is ready to hear more about how easy changes can make a huge impact on your school bus routes, reach out to our transportation professionals. We will provide the information that you need to find the right bus routing software package.
What changes have helped your school district improve its school bus routing? We'd love to hear about your route planning systems.