Is Stop-Arm Camera Technology Making School Bus Transportation Safer?
published on April 15, 2016 by Sonia Mastros
school bus safety, school bus transportation software, illegal passing, stop-arm camera technology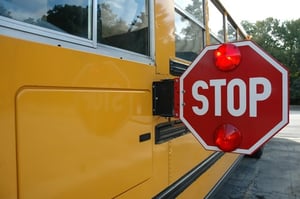 Illegal passing of school buses is a huge safety concern for school bus transportation officials. In a 2013 report for the North Carolina Department of Public Instruction, during a single-day count, school bus drivers documented over 3,000 vehicles illegally passing stopped school buses.
This problem is not unique to one area of the country. After the installation of stop arm cameras on school buses in Austin, TX, over 1,000 violators were captured during a 30 day grace period.
The Successes and Challenges of Stop-Arm Camera Technology
Though stop-arm cameras are certainly beginning to track offenders, this technology is not without its challenges. Though the success rate for capturing license tags is high, it can be difficult to identify the driver of a vehicle. This stop-arm camera technology provides a minimal distraction to drivers, so that they can focus on safely transporting students, instead of logging offenders. Whether effective follow-up occurs, however, is very dependent on the actions of local law enforcement. Fortunately, the cost of stop-arm cameras is relatively inexpensive, making them a viable option for many districts.
Stop-Arm Camera Legislation
Local governments across the country are introducing bills that will allow law enforcement to mail summonses to the owners of vehicles recorded illegally passing stopped school buses. Some school districts are even working toward passing laws making stop arm cameras mandatory. In fact, some school districts are even benefiting from a share of the revenue from citations. In Rhode Island, for example, the law allows for the school districts, cities and the state to receive a share of the funds. Providence schools have experienced a 90% overall drop in violations and a 32% drop in high-risk areas since warning letters started making their way to vehicle owners.
Along with stop-arm cameras, some districts are installing extended arms, which are more visible to drivers. Paired with stop-arm cameras, these tools are helping to find offenders and keep the students who rely on school bus transportation safe.
To learn more about technology tools designed to keep students safe, contact our team. We provide innovative software solutions for districts across North America and Canada.
Has your school district installed stop-arm cameras? What are the benefits and drawbacks? Please share your opinion with us.