Indiana School Bus District Adds School Bus Wifi
published on November 03, 2020 by Sonia Mastros
School Bus Technology, school bus transportation technology, School Bus WiFI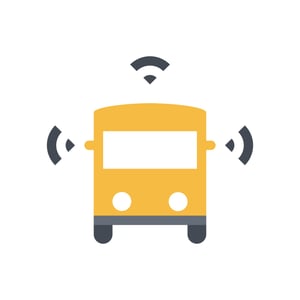 New innovations in school bus technology are improving student management and helping to create new learning opportunities - innovations like putting WiFi access points onto school buses. These access points run off of cellular connections, and can be tightly managed to regulate what students are allowed to access, making them a solid bus upgrade for numerous reasons.
The latest district to embrace school bus WiFi is the South Bend Community School Corporation, in Indiana. Since November 2019, they've installed access points in 20 of the 200 buses running in the district, and the results have been so positive that they are moving forward with plans to slowly switch over to universal WiFi in every bus.
Why do this? They cite several reasons.
Why WiFi Is A School Bus Technology Worth Investigating
1 - Keeping students busy
Most young people these days keep their noses in their portable devices anyway, so why not encourage that on school buses? Students who are distracted by their phones, tablets, or laptops are unlikely to cause many problems on the bus, resulting in a smoother ride for everyone.
2 - Encouraging academic usage
Since the access points can be gated to restrict what websites students are allowed to visit, this can be leveraged to push them towards productive use of their time. Also, some students may simply lack free time to do all their homework - particularly if they have especially long bus rides every day. This Internet access gives them a lot more opportunity to get homework and studying done.
3 - Students can be protected
Just because the WiFi access points are portable doesn't mean they're unsafe. These in-bus WiFi systems can be locked down against intrusion like any other access point. They can even be locked down so that only school-approved devices can access the network, which is helpful for districts like South Bend who loan Chromebooks to their students.
4 - The buses could be used as mobile hotspots
South Bend has ambitious plans for their WiFi buses. Beyond the immediate on-route benefits, they are holding discussions about parking the buses in areas which lack public Internet options. This would turn them into mobile hotspots, creating a genuine public service that would likely be appreciated by the community.
5 - Another way of tracking student ridership
In districts where people are wary about RFID-based student tracking, WiFi provides an alternative. Since all usage of the network is tracked, including connections that happen automatically as devices search for Internet service, this provides an easy way to keep track of who's on the bus.
South Bend's plans are ambitious, and they will be costly - but is it worth it? Let's talk about it in the comments!