Identify Your Bus Routing Strengths And Weaknesses
published on September 02, 2022 by Sonia Mastros
bus routing, route optimization, gps vehicle fleet tracking, school bus routing software, school bus driver shortage, inefficient routes, outdated routes, inaccurate routes, route efficiency, state reporting, re-routing, bus shortages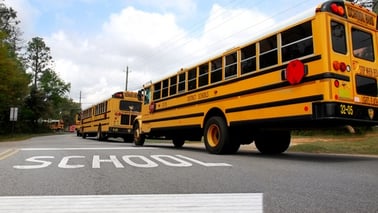 When assessing your school district's transportation program, there are a number of factors to analyze that make up a successful program. Cost management and benchmarking goals play an important role in determining how well your program operates. Effective fleet management requires precision, organization, and often bus routing software to ensure bus routes are made more efficient with route optimization. GPS vehicle tracking software also ensures drivers are able to perform their responsibilities with minimal disruption.
It is important to analyze your transportation program's strengths and weaknesses, because working towards goals helps you improve student safety, bus route optimization, and your budget.
By identifying your program's successes and areas for improvement, you take a valuable step towards effective fleet management.
Effective Driver Management
Ensuring drivers work under satisfactory conditions is a beneficial way to reduce employee turnover, which is a significant cost for many school districts. Consider whether your school district employs the following practices when working with drivers:
Acknowledge that what they do is important.
Ensure fair treatment so that seniority has a role, but doesn't create ill will.
Train drivers to do their jobs properly.
Keep drivers informed of their routes with up-to-date information. Using bus routing software is an effective way to offer updates to drivers.
Saving Money On Fuel Costs
The cost of fuel is a significant expense that every school bus transportation program must take into account when working on their budget. Is it better to order fuel at a set price and take the risk that prices will go down, or should you pay as you go and risk the price of fuel going up drastically?
Depending on how your district decides to pay for fuel, local chains of gas suppliers such as Exxon are open to negotiating prices because your district will be paying for fuel in bulk.
After negotiating with a local gas company chain, fuel is usually delivered to, stored and pumped into buses at the location where buses are stored.
Route optimization and GPS vehicle tracking software also help school districts reduce fuel prices by ensuring that bus routes are as efficient as possible and that bus drivers don't travel outside of their assigned routes, wasting fuel your district has paid for.
Should You Purchase A New Bus Now Or Later?
While routing programs are able to save on cost through route optimization, your transportation program must also focus on the mechanical requirements of the buses in your fleet. It is possible to save money on maintenance by purchasing a newer bus, but you must determine the period of time over which you expect to receive your return on investment (ROI).
Benchmarking Success
By saving on driver costs, fuel and mechanical needs, your school district improves its transportation budget. Once financial strengths and weaknesses are identified, there are additional areas your school district should analyze its success in.
To benchmark the success of your transportation program, consider your district's strength in the following areas and how your data compares to other school districts:
Average Age Of Fleet (Median = 8.5 years)
Bus Usage (Median = 87%)
Average Student Ride Time Per Day (General Education Median = 30 minutes, Special Education Median = 45 minutes)
Identifying areas in which your school district's transportation program succeeds and areas in which it should be improved is a beneficial practice that every school district should employ. Without setting goals and tracking progress, it is difficult to ensure a successful program.
A number of online resources exist for administrators and transportation contractors who still have questions about how fleet management programs help to achieve cost-saving route optimization within their districts.
To begin your research, learn 7.5 tips for how to plan your school bus routes effectively.
What do you think? Are there any other ways to identify your bus routing strengths and weaknesses? Let us know in the comments below!