How to Setup Social Distancing on a School Bus
published on August 11, 2020 by Sonia Mastros
school bus safety, school bus safety plans, social distancing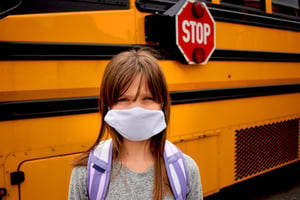 Are you going to be able to maintain social distancing on your school buses? If not, your entire district will be at risk of COVID-19 outbreaks. Any districts re-opening in the fall must take all possible precautions to maintain school bus safety, and minimize the chances of disease spread.
This will not be easy, but we have suggestions culled from district recommendations from around the country to help make it possible.
Seven Critical Tips for Promoting School Bus Safety Through Social Distancing
1. Accept That You Will Not Be Running Your Normal Bus Routes
The first tip is purely psychological; understand that running standard full-load buses is not possible, not if you want to prevent the spread of disease. Bus loads will have to be greatly reduced to maintain social distancing.
2. Require Masks
If your bus riders are all wearing masks, you can safely place one student on each seat of the bus. If they aren't wearing masks, to be safe, you would have to alternate rows, to provide even more distance.
Even if the parents complain, students need to wear masks on the bus. Be sure to provide them at the bus entrance so they are always available! Install hand sanitizer stations as well, for extra protection.
3. Whenever Possible, Transport Siblings Together
One of the few exceptions to rule two would be if the students are siblings or otherwise live together in the same household. In those cases, there's no need to maintain social distancing between them, and they can both be seated on the same seat.
4. Use Tape or Other Dividers to Block Off Seats
The student riders are unlikely to self-organize this seating arrangement. Your best bet will be physically blocking off any seats which should not be used, with tape or other barriers.
5. Put a Plexiglass Barrier Around the Driver
Drivers will be at the most risk of contracting COVID-19 from the students - which means, in turn, they'll also be at the most risk of spreading the disease afterward. The best policy here is to physically isolate the driver with a plexiglass barrier around their seat.
6. Open the Windows
Weather permitting, try to run the buses with the windows down as much as possible. The coronavirus does not survive long in the open air, so having constant airflow will help reduce the chances of viral spread or contamination of physical components.
7. Fully Disinfect the Bus After Every Route
Anything that students might have touched during a ride should be thoroughly disinfected with alcohol or a similar sanitizing agent before the bus makes another run.
Has your district discovered any other effective tips for maintaining school bus safety during the coronavirus outbreak? If so, please share your tip below!